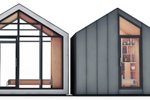 spot cool stuff DESIGN
Spot Cool Stuff has seen multitudes of small, prefabricated structures. Even among that stiff competition, The Bunkie stands out.
First, there's the way the structure's design came about. It's the product of an unusual collaboration between an architectural firm (BLDG) and a furniture maker (608 Design).
---