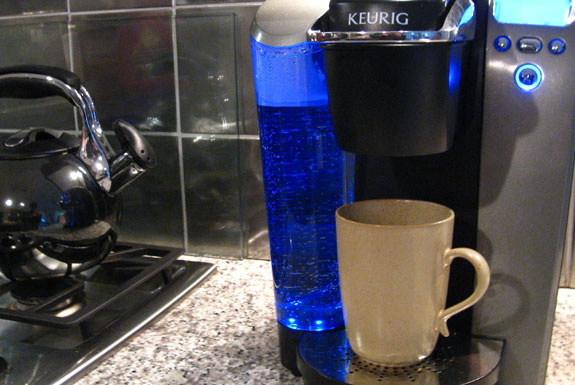 The Keurig single cup coffee maker is one of those rare items—like a TiVO or a BlackBerry—that can engender a near cult-like fanaticism among its users. People tend not to simply own a Keurig but be possessed by them. One blogging housewife even exclaimed "I wanna marry my Keurig coffee maker!"
Keurig single-cup coffee makers look cool, are well designed and work flawlessly. That explains part of their devoted following. Though, clearly, there's something else at play.
It takes a multitude of small steps to get a caffeine fix with an ordinary filter-based coffee maker. Filling the coffee maker with water, grinding the coffee, finding a filter, putting the filter in the machine and the coffee grounds in the filter—and those are merely the steps in making a cup of coffee. Later, you have to remove the filter and deal with the disposal of the coffee grounds. You must then disassemble the washable components of your coffee maker, wash those along with the coffee pot and then reassemble the whole thing for the next use. None of those steps are difficult. But they are niggling.
Chances are that you don't appreciate how niggling your old coffee making process is until you get a Keurig. This single-cup brewing system is based around a K-Cup, a small plastic container with just the right amount of coffee grounds for a single cup o' joe. You insert a K-Cup into a Keurig coffee maker, push a button and then you . . . um . . . well . . . then that's it. Watch the whole process in the video, below.
Cleaning up after the Keurig is as easy as throwing out the K-Cup. There are no components to wash (other than your coffee mug, of course). It is all very convenient though some lament the environmental impact of throwing out all those bits of used K-Cup plastic. For a greener alternative, there's a reusable K-Cup you fill with your own coffee grounds.
You may be wondering:
Where do I get these K-Cups?
Funny how when you start shopping for an item you suddenly spot it everywhere. So it is with the K-Cups. They are sold at most grocery stores, discount outlets like Costco, kitchen stores like Bed, Bath & Beyond and online sources like Amazon and Cooking.com.
What do I do when I'm entertaining and want to make coffee for a group of people?
Counterintuitively, Keurig single cup coffee makers are better for groups than are ordinary machines that brew an entire pot. In our tests, the Keurig made a large cup of coffee in 46 seconds, a medium in 39 seconds and a small cup in 32. Brewing eight cups of coffee, from start to finish, will take around five minutes with the Keurig. That's as fast if not faster than brewing a whole pot. Further, the Keurig will let each person choose their own cup of coffee—decaf for one person, extra bold for another, German chocolate cake flavored for a third. A wide selection of tea K-Cups are available. You'll find that your Keurig can be quite the topic for conversation too.
There are currently several basic models of the Keurig available. The primary difference between them is the size of the water reservoir. The B60 model represents the best value. No matter which you choose it is very possible that you'll be sucked into the cult of Keurig lovers. And who knows? You may even propose marriage.

BROWSE ALL KEURIG COFFEE MAKERS | FOLLOW US ON TWITTER |
Related posts:
Handpresso, the Highly Portable Espresso Maker
Sorapot Tea Brewing System
Breville: World's Best Electric Kettle