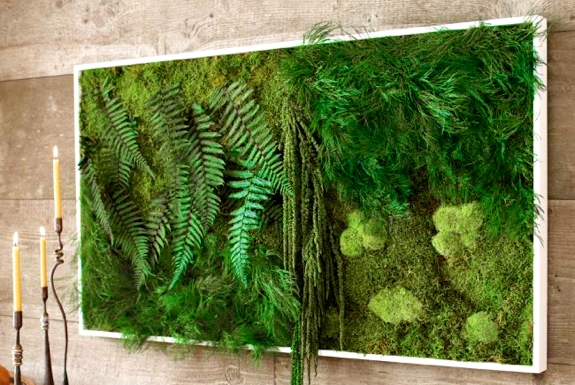 It's common practice for people to decorate the walls of their homes with pieces of art. And it's common for people to decorate the interior of their homes with plants. But doing both of those with the exact same item—now that's unusual.
And that's exactly what you can do with Fern and Moss Wall Art.
Fern and Moss Wall Art consists of living plants arranged artistically within a picture frame. The effect that creates is one of a sort of vertical jungle.
If that's what Fern and Moss Wall Art is, here's what it is not:
• Fern and Moss Wall Art isn't a watering headache. The fern and moss draw moisture directly from the air and don't need to be watered, at all, ever.
• Fern and Moss Wall Art isn't fragile. Maintenance time and gardening skills are not required (which we appreciate, Spot Cool Stuff lacking even a modicum of either). That said, you do need to hang this wall art in a place where it gets some indirect sunshine. Also, keeping it out of a house cat's paw reach is highly suggested.
• Fern and Moss Wall Art isn't a magnet for bugs, or at least not any more so than a typical house plant of equivalent size.
The wall art comes in four sizes: extra-large, large, small and oblong. (The latter three sizes are depicted in the photo, below.)
You also have a choice of your artwork using both fern and moss or just moss. The advantage of the moss-only option is that it is less expensive and the resulting art piece is relatively flat. Using the fern, for better or worse, makes for a more three-dimensional piece. We think the fern creates a fascinating visual effect, especially in the stunning extra-large size shown in the above photo.
Fern and Moss Wall Art is sold by the Vivaterra, an online purveyor of cool, eco-friendly fashions and home items. Combine the Fern and Moss Wall Art with the Vivaterra Driftwood Succulent Garden and Orchid Wall Art for the ultimate jungle-themed room.
published: 5 August 2011

LEARN MORE & BUY | JOIN US ON TWITTER / FACEBOOK / PINTREST |

LEARN MORE & BUY | JOIN US ON TWITTER / FACEBOOK / PINTREST
Related posts:
Living Moss Jewelry
Cool Gifts for Architecture Lovers
3 Unusual, Upcycled Roofing Materials
THE Art Museum Book
Fingerprint Wedding Rings