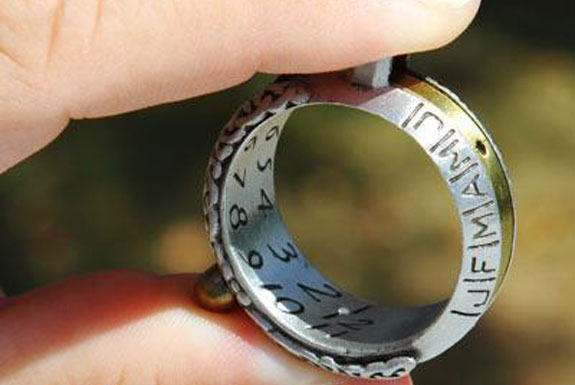 Every inner nerd needs to be decorated. To that end, here's a Spot Cool Stuff selection of ten pieces of jewelry that are geeky but may also—depending on your point of view—look cool.




Sundial Ring
It looks like an unusual artifact that Indiana Jones would crawl through snakes to obtain. The Sundial Ring—really a sundial pendant—is also functional. Align the inner gold ring to the current month, hold the small side hole in said inner gold ring in the direction of the sun and the time is illuminated on the inside of the pendant. Or, at least it is sunny days. At other times the Sundial Ring isn't as useful, though still interesting-looking. $35
LEARN MORE & BUY | JOIN US ON TWITTER / FACEBOOK |

Pacman Ring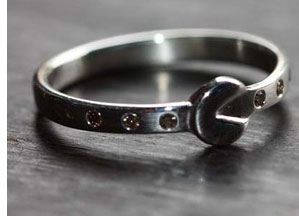 If 80s culture and classic video gaming somehow passed you by you'd still likely be intrigued by the design on the Pacmac Ring. But chances are that you recognize the pie chart atop this ring and the dots that circumnavigate it. Rings are sized to order. $45

Circuit Board Jewelry
The planet is has an increasing supply of used computers and there's no comprehensive plan for what to do with them. But the Etsy artist group Sparkover has one way of using at least some of the inner workings of these discarded electronics: they turn them into circuit board jewelry. Earrings, pendants, rings . . . you can even get a disturbingly interesting circuit board mustache.
LEARN MORE & BUY | JOIN US ON TWITTER / FACEBOOK |

Molecular Earrings, Keychain & Cufflinks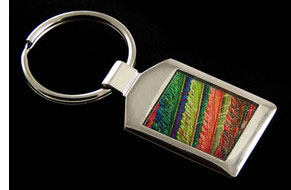 To casual observers, the items in these black-backgrounded photos contain colorful abstract works of art. But a microchemist may recognize what they really show: macro photos of molecules. Caffeine molecules, to be specific. At least that's what's shown in our examples. The Molecular Keychain and Molecular Cufflinks also come in Testosterone, for that especially manly vibe. Options for the Molecular Earrings include Dopamine, the happiness inducing neurotransmitter, and the anti-depressant Serotonin.
LEARN MORE & BUY | JOIN US ON TWITTER / FACEBOOK |

d20 Spiral Necklace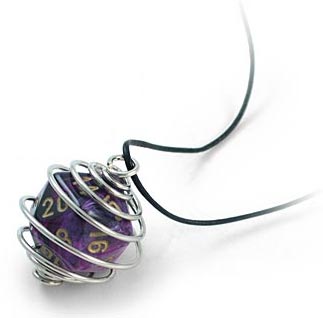 You needn't be a level 10 Druid to wear a d20 Spiral Necklace. Anyone can don this adjustable piece of neckwear (though it would greatly help if they at least knew what a level 10 Druid was). Inside the stainless steel pendant is a removable 20-sided die, perfect in case a Dungeons & Dragons emergency should arise.

Power Ring
In ancient Greece the asclepius wand was a symbol of power. In medieval times a crown denoted power. In the current computer age the symbol for power is a semi-circle with a line through it—like that depicted on the Power Ring.
On the off chance you are wondering, the International Electrotechnical Commission standardized engineering symbols in 1973. They decided that a straight up-and-down line would represent a piece of electronics in a fully powered state—imagine a circuit being connected. A circle was the symbol for a device disconnected from power. The combination of the two symbols thus came to represent an item that could make the power turn on and off. $40
LEARN MORE & BUY | JOIN US ON TWITTER / FACEBOOK |

Jack Plug Necklace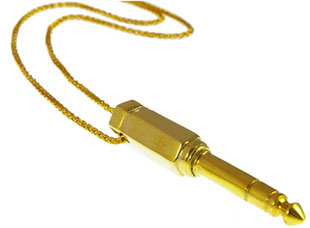 The Jack Plug Necklace is a cool design that some high-end DJs consider a required fashion accessory. The particular necklace pictured to the right has a jack plug pendant that's 24-karat gold carat plating. Still, instead of spending $310 for this piece of jewelry we'd rather get a pair of real Dr. Dre headphones—they also come with a gold-plated jack plug but you also get a pair of headphones attached to it.

Handy Bracelet
Instead of wearing your love for cell phones on your sleeve how about wearing bits of a cell phone there? The Handy Bracelet is decorated with keypad buttons from discarded phones. We like that the menu and power buttons are included in addition to the numbers. Currently discounted 50% to $20.
LEARN MORE & BUY | JOIN US ON TWITTER / FACEBOOK |





Star Trek Insignia Pin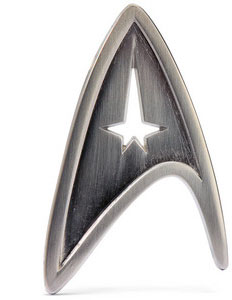 No piece of jewelry yells "science fiction geek" as loudly as does a Star Trek Insignia Pin. Sadly, these pins do not double as a communication devices or locators for starships to beam you aboard. But they are solid metal and were cast from the exact pins worn in the 2009 Star Trek movie. You even get a choice of four insignias: science, medical, engineering and command. Make it so. $10

Lord of the Rings Ring
In the Lord of the Rings trilogy, what was somewhat lost amongst all the orc fighting and fellowing forming is that the ring at the center of the story was quite an artistic piece of jewelry. As any self-respecting Lord of the Ring fan knows, the characters on the top and inside of the ring are ancient Elvish and, translated, mean One Ring to bring them all and in the darkness bind them. Not the most cheery sentiment to wear around your finger or at the end of a necklace. Still, the ring is cool-looking. My precious is available in gold or silver. Throwing it into the Fires of Modor is strictly optional.
LEARN MORE & BUY | JOIN US ON TWITTER / FACEBOOK |
updated: 10 Aug 2012

Related posts:
Cool Home Decor: Fern and Moss Wall Art
15 Unusual and Creative Resumes
5 Cool Caravan Camping Trailers
Fingerprint Wedding Rings