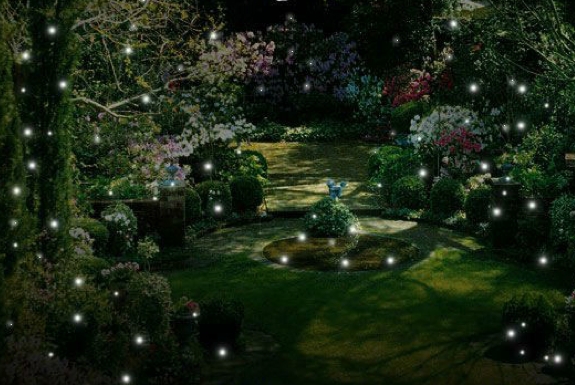 Previously, Spot Cool Stuff reviewed five creative lights and lamps designed for outdoor use. With warm summer nights once again drawing us outside for patio dinners and into the backyard for late night hanging out, we thought we'd share five more outdoor lights we like. Each offers some degree of weather-proofing. Each is also, in it's own way, cool:

Ferry Berries
Fortune Products
No fairies are harmed in the production of Fairy Berries. Which is good, because there's no other light that can add nighttime whimsy to a backyard as easily, as cheaply and in as cool a fashion.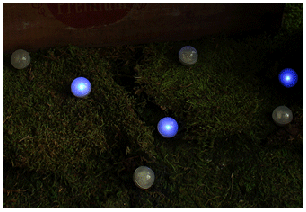 Each 3/4″ (1.9cm) width "berry" contains a tiny LED light that glows and fades randomly. There are several colors to choose from: red, purple, blue, yellow and white among them. With the typical Amazon.com discount, Fairy Berries tend to run between $17 and $22 per pack of 10 depending on the color.
Berries don't have an on/off switch on them, so unless you possess fairy powers you'll have to remove the batteries to help preserve them. Berries can also break if stepped on too forcefully. But those are the only downsides. At night, Fairy Berries look amazing sprinkled around a yard or lining a walking path. They're waterproof, so you can float them in a pool. Hang them from a tree or from the top of a wedding tent (as in the pics below) and the effect is magical. Just like fairies.





Stone Outdoor Lamps
Oluce Stone
They look like large, and especially smooth, pieces of moon stones during the day. But at night, these Stone Outdoor Lamps shine brightly — like large, smooth and especially radioactive-looking pieces of moon stones. In fact, these stone-lamps have a more terrestrial source (ie. Italy) and they are made of an especially weather-resistant form of polyethylene. Stone Outdoor Lamps also come in an egg-shaped pink version.
[ ALSO ON SCS: Puerto Rico's Amazing Bioluminescent Bay ]

Hanging Solar Garden Light
Britta

If the look of the Hanging Solar Garden Lights remind you of Christmas tree ornaments, that's probably because its designer, Sven Ono, was inspired by a Christmas tree ornament. A Nordic cornet, to be specific. Though, unlike most ornaments, these lights have a solar panel on the top. It charges a 600mAh NiMH battery that powers an LED bulb that, in turn, shines through a frosted cone. Weatherproofing lets you happily leave Hanging Solar Garden Lights outside for long periods of time. Their price — $50 for a set of three — should leave you feeling pretty happy too.

Solar Powered Glass Lanterns
Allsop
These Solar Powered Tea Lanterns are similar to the solar powered cones (above) except that they are made from hand blown glass. That means they are heavier and more fragile and, at $55 each, more expensive. But the it also means that the light emanating out from the internal LED bulb is warm, natural and inviting — perfect for a more formal occasion or for a dinner tabletop. The light is sold by perveyor of cool things AHAlife.

Sponge Lamp
Pott
Handmade in Spain, no two Sponge Decorative Lamps are exactly alike. Nor are any of them perfectly round, though they do come in four approximate sizes ranging from roughly 23cm (9 inches) to about 80cm (31.5″) wide. The porous, uneven surface of each orb feels a little bit like a dried sea sponge (hence the name). But the lamp looks like almost alive when lit — the effect is like light shining through skin. The effect buying one will have on your wallet is altogether less pleasant.
updated: 22 March 2014


JOIN US ON TWITTER / FACEBOOK / PINTREST / GOOGLE+ / LINKEDIN / TUMBLR
More from Spot Cool Stuff:
A Review of the Coolaroo Outdoor Shade Sails
Furniture That's Also Musical Instruments
The Best Lights from Lumens