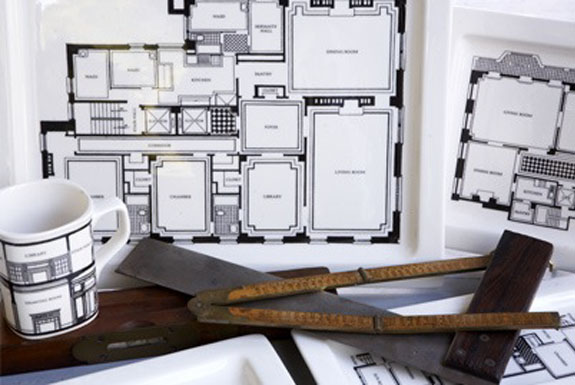 You don't need to be an architect to love cool architecture. Urban planning and building design is an interdisciplinary passion, attracting the likes of art enthusiasts, engineers, history buffs, designers and travelers. Chances are that at least one person on your gift shopping is among those.
With that in mind, here's our roundup of seven inexpensive—and one not-so-much—gifts for architecture enthusiasts. For this review we specifically excluded architecture magazines and books (of which there are a huge and excellent variety to choose from). We also nixed items used by working architects in their craft, like drafting tables or home design software.





Floorplan Pattern Dishes & Mugs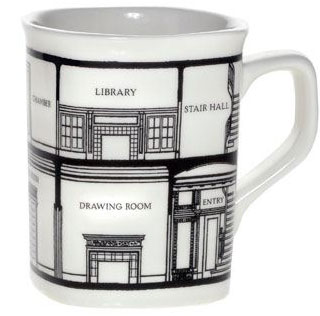 The Floorplan Collection, from the cool and abstractly-named design outlet shop Fishs Eddy, provide the blueprint for an architecturally-themed eating nook. We're partial to the coffee mugs and dishwasher/microwave-save serving plates, but the collection also includes napkins, coasters, dish towels and tote bags. Every item in the collection features a black-line drawing of an urban abode, from luxury penthouse to student studios.

LEGO Architecture Sets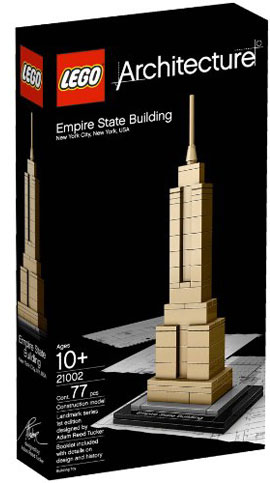 You needn't be a kid to love the sets in the LEGO Architecture series. Each one includes the plastic building pieces needed to construct one vaguely-to-scale LEGO version of a famous building or structure.
Long-time Spot Cool Stuff fans may remember when we reviewed LEGO's cool architect-themed series soon after it was introduced. Then there were only two sets available: New York City's Guggenheim Museum and the Frank Lloyd Wright-designed Falling Water. Happily, LEGO has come out with several more since, including London Bridge, Berlin's Brandenburg Gate and the Eiffel Tower and the Empire State Building; more LEGO-ized architectural landmarks are on the way.
While a single LEGO Architecture set is fun, having more than one allows you to create strange hybrid buildings, mad scientist-like. An Eiffel Brandenburg Bridge, any one? And, of course, all the pieces included in the LEGO Architecture sets are compatible with all other standard LEGO pieces too. (Tip: You can save money by purchasing an eight building bundle rather than purchasing individual sets separately.)
Also, if you love LEGOs, check out our list of 12 cool LEGO-themed products, including LEGO watches and LEGO wedding rings.
LEARN MORE & BUY | LEGO STORE: US / UK |

Cheat Sheet Placemats
The cotton and machine washable Cheat Sheet Placemats would appeal to those who flunked finishing school as well as those with an interest in architecture. The soup spoon goes here, the champagne glass goes there, all layed out on the placemat blueprint-like. €17
LEARN MORE & BUY | JOIN US ON TWITTER / FACEBOOK |

Cafepress Architecture T-Shirts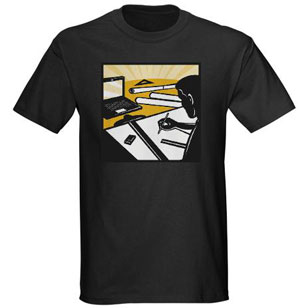 The online store Cafepress has all sorts of cool printed stuff. No surprise then that the site offers some superbly creative architecture-themed t-shirts. We especially like the Draftsman t-shirt (pictured, right), though the Eat, Sleep, Architecture t-shirt is both more subtle and humorous.

Zenblocks
Is it a toy? A sculpture? A stress relieving device? A conversation piece? The cool thing about Zenblocks is that they are all of those rolled into one. The blocks, made of sustainably harvested wood, seem as if they were carved at random. In fact, the angles are such that they fit together with surprising ease and variety. Form them into an arch. Stack them one atop another. Arrange them for inspiration—or procrastination. $25
LEARN MORE & BUY | JOIN US ON TWITTER / FACEBOOK |

Moleskine Notebooks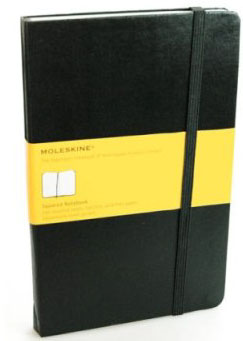 Good, study notebooks surprisingly difficult to find. Triply so when looking for notebooks with pages sans lines. Moleskine Notebooks are the best around. Spot Cool Stuff never travels without one and we know many an artsy type who always have one handy to sketch a scene or jot down an idea. Moleskines are available in a variety of styles and sizes, in both hardcover and paperback. And even if your giftee always has one, a good notebook is something difficult to have too many of.

May 28th Architecture Watches
Most people who like wearing watches already have one. That makes them a risky gift to choose. But, oh, how cool-looking are the architecture watches from Latvian designer Agni Tilla. At the time of writing there are eight designs to choose from, though old ones go and new ones arrive with some frequency. Best of all, these watches' quality and WOW-factor far exceed their $39 price.
LEARN MORE & BUY | JOIN US ON TWITTER / FACEBOOK |

Architectonic Menorah
At $1,125 it's way too expensive for a typical gift, but it was too cool to leave off our architecture gift list. Besides, how many architecturally-themed Hanukkah gifts are there to choose from?
The Architectonic Menorah was designed by architect Richard Meier to both look appealing and carry symbolic meaning. Each pewter candle holder is an abstract representation of a significant time of Jewish hardship, like their expulsion from Egypt or the Nazi holocaust. The menorah is sold by the Jewish Museum, both online and at their New York City location.
LEARN MORE & BUY | JOIN US ON TWITTER / FACEBOOK |
updated: 8 Dec 2012


Related posts & pages:
7 Unusual & Creative Playgrounds
10 Outstandingly Great Gifts For Travelers
Under $50 Gifts for Photography Enthusiasts