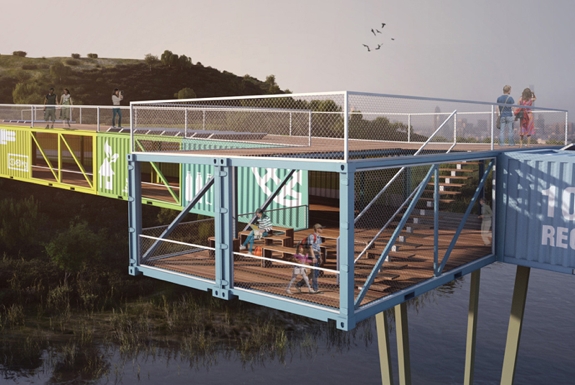 Shipping containers. Is there anything they can't do for the environmentally-conscious architect?
Shipping containers can be stacked and arranged into all manner of cool buildings. They've been fashioned into a shipping container amphitheater. They've been melded into a shipping container office park. Outside of Seattle, you can even order an extra-hot half-caf double-tall non-fat extra-dry cappuccino from a shipping container Starbucks.
The problem is: all the world's shipping container buildings aren't near enough to make use of the estimated 800,000 containers that are abandon by shipping companies every year. Which is why Spot Cool Stuff was thrilled to learn about the ECOntainer, the world's first bridge to be constructed out of used shipping containers.




The ECOntainer, to be located in Israel's Ariel Sharon Park, is the design work of Tel Aviv-based Yoav Messer Architects. Their bridge envisions taking 28 used shipping containers and laying them two-aside, end-to-end, to create a 160 meter span. The bridge will include observation decks and museum-like environmental exhibits. For those reasons, most visitors will be crossing the ECOntainer by foot, though the bridge will also be used by bicyclists and the park's shuttle bus.
By using shipping containers as their primary material, the designers greatly reduced the cost compared to factory-ordered metal. They also limited the impact of the actual construction process — the modular nature of shipping containers allows for 70% of the bridge's construction to be completed off-site.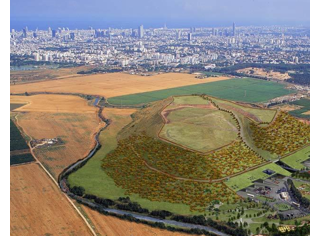 But the most important reason for this particular bridge upcycling shipping containers might be symbolic. Ariel Sharon Park, on the outskirts of Tel Aviv near Ben Gurion International Airport, sits on what was once Israel's largest garbage dump! Since 2001, local authorities have been working on transforming Israel's greatest environmental eyesore into one of the country's most beautiful natural areas. Already completed is the Hiriya, a 60-meter high flat-top mound (pictured to the right). From the top one can gaze out, Moses-like, upon the Mediterranean Sea and the Mountains of Judea (and the skyscrapers of Tel Aviv, which as a vista, we suppose, isn't so Moses-like). The view is spectacular enough to make you forget that you are standing on 25 million tons of trash.
Using old shipping containers to build a bridge, then, fits into the park's mission of eco-rehabilitation. In addition to the bridge, Ariel Sharon Park will include gardens, bicycle paths, a bird watching preserve, an agricultural school, an environmental education center, boardwalks, cafés and 50,000-seat amphitheater. When completed, it will be the largest urban park in the world  — more than three times larger than Central Park in New York City. It's enough to make you never look at trash in the same way again.
published: 4 April 2013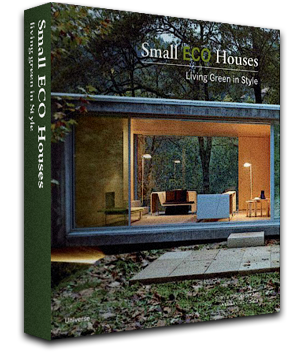 Related posts on Spot Cool Stuff:
Cool Gifts For Lovers of Architecture Enthusiasts
Malaysia's Langkawi Sky Bridge
The Bridge That's Also a Trench
The Building That Sings in the Rain
Pitch Dark Restaurants ← one's in Israel
Yurt Glamping at the Treebones Resort
Creative Upcycled Products For Your Home