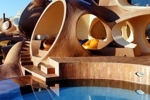 spot cool stuff DESIGN
France is a land full of old-to-ancient buildings and a country zealous about guarding its national heritage. So how did a house designed by a Finnish architect and completed in 1989 land a coveted spot on the French Ministry of Culture's list of official historic monuments?
The answer, in a word, is: Bubbles.
It also helped that the owner of said house is French fashion icon Pierre Cardin. And that the house — called the Palais Bulles or Palace of Bubbles — is one incredibly cool piece of architecture.
---