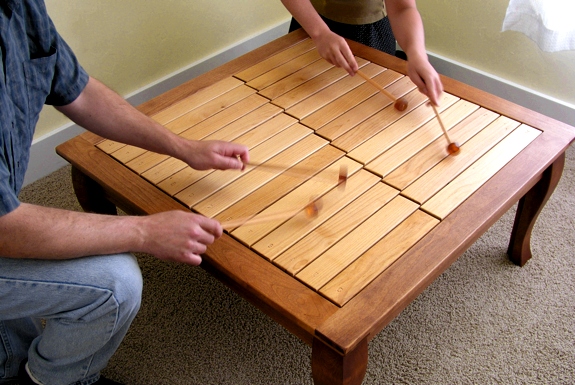 If you have kids who incessantly bang on whatever pots, pans, books, bowls, saucers, spoons and sibling's heads they can get their hands on, the last thing you need is a furniture that's designed to double as musical instrument. But if your home is in need a certain melodic touch, the furniture from Musical Furnishings is very cool.
Every item from Musical Furnishings is meant to be enjoyed as a bone fide musical instrument; all manner of tunes, from simple songs to complex scores, can be played on them. At the same time, each item serves as a useable piece of furniture. Your can eat on the musical tables (the tripled-layered polyurathane finish is resistant to spills), sit on the musical chairs and store stuff in the musical chests.
There's a variety of Musical Furnishings items to choose from. A look at our favorites:





Duet Table
We've seen dueling banjos, dueling fiddles and dueling pianos. But until we came across this table we had never seen dueling xylophones. The 13 xylophone keys that cover the top of the Duet Table are arranged back-to-back, allowing two people to play together—or against each other.
LEARN MORE & BUY | JOIN US ON TWITTER / FACEBOOK / PINTREST | Pin It


Musical Drum Table
Any table can be banged upon but how many can sound like a chime, cymbal, tongue drum, birch drum, snare drum and cow bells all at once? Viewed from above, the Musical Drum Table looks like a regular table with a square pattern. It's only when you peek underneath that you see how each of those 12 squares houses a different percussion instrument. The extra cool part: The squares are modular, allowing you to rearrange them and add your own.
LEARN MORE & BUY | JOIN US ON TWITTER / FACEBOOK / PINTREST | Pin It


Musical Treasure Chest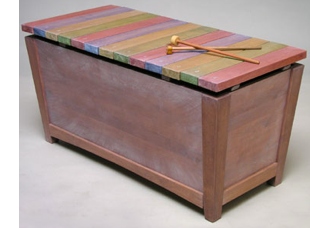 We love the Musical Treasure Chest with the colored keys (pictured to right) but it's also available in a whitewashed, cherry and honey finish. The keyboard, hand tuned in the key of C, sits a few inches above the cedar base of the chest, allowing for air flow (and preventing fingers from getting pinched). Still, the character of notes change slightly depending on what's stored inside the chest.

Musical Porch Swing
Musical Furnishings has a few different pieces of outdoor furniture, of which we are partial to the Musical Porch Swing because, well, it's a porch swing. Made out of red cedar, the swing is designed to live out in the elements. The character of the 13 notes the keys produce changes with the temperature, humidity and wood moisture, which might frustrate hard core musicians but delight amateurs. Click here to listen to very short snippet of how the swing can sound.
LEARN MORE & BUY | JOIN US ON TWITTER / FACEBOOK / PINTREST | Pin It

published: 20 Mar 2011

Elsewhere on the web:
Related posts:
A Review Of The Sonos Wireless Music System
Infographic: How a Father's Music Influences His Kids
8 Free Websites for Discovering New Music