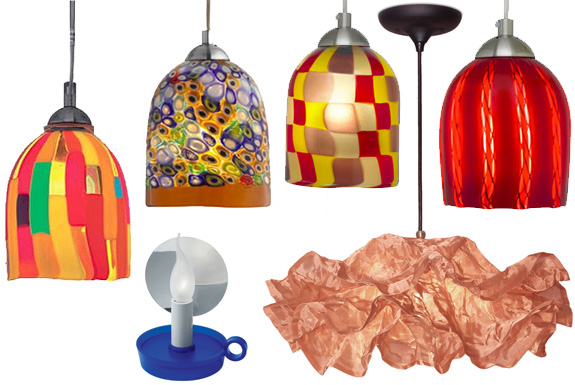 Lumens is our favorite source for modern lighting. The online store has all manner of high-end designer lights. They are also have hot deals on cool lights up to 40% off the retail price.
Here are three of our favorite lights at Lumens:
Femme Fatale Pendant by Fire Farm
The Femme Fatale Pendant is the Rorschach test cool of lighting. Does it hearken an iconic Marlyn Monroe image? Or is it a crumpled paper bag blowing in the wind (a la American Beauty) or a duster or a Victorian maid's cap?
Most cool lights such as this are only available in hard wire. The Femme Fatale Pendant is available in swag too, so if you seek to spend your decorating budget on furnishings, not on electricians, this is a practical, as well as attractive, design choice.
Available colors: brass, steel and copper (shown below).

B.L.O. Table Lamp by Flos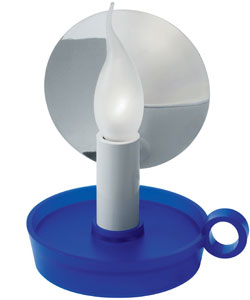 You might take a look at the B.L.O. Lamp to the right and wonder why we would consider it cool. Here's the reason: To turn off this faux candle lamp you can flip the switch on the power cord; or you can blow on it!
Oddly, you can also blow the lamp on. This might make the B.L.O. Lamp frustrating to keep in a windy room. But for a bedside table in a modern country home this lamp would be a perfect fit.
Available in silver and blue.

The Oggetti Luce Collection
Spot Cool Stuff is smitten by the fun loving lights of the Oggetti Luce collection. The lamp shades are available in a wide variety of colors and designs, each resembling the stained glass windows of some funky church. Each are also mouth-blown by expert artisans in Italy!
The lights of the Oggetti Luce collection are available as hanging lamps and wall-mounted. We especially like the linear suspension lights (middle photo, above) strung along an adjustable cable. Very cool!
BUY SINGLE | BUY LINEAR SUSPENSION |


Related posts:
Inhabit Builtby: One Lamp. 1,607,045 Options.
Light Emitting Wallpaper
Fireplace In A Box
Pitch Black Dark Restaurants