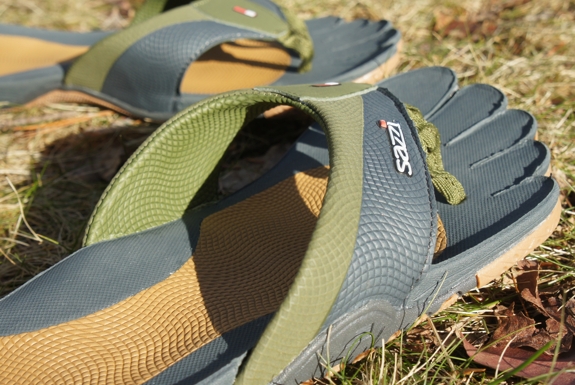 If you had to spend an entire vacation wearing no other footwear besides a pair of flip-flops which model would you want to take?
Spot Cool Stuff has been busy lately researching this exact question. We've been testing more than two dozen pairs of flip-flops across several categories. But there's one model we are already certain will make our final cut: the Sazzi Decimal Sandal.
One needn't look at a Sazzi Decimal for more an instant to spot its two most pronounced features: the four toe posts and the footbed with individual toe cutouts.

The split toe footbed allows each toe have its own suspension and thus grip a surface akin to the way a bare foot does. The toes don't move individually as much as they would inside a pair of Injinji Toesocks, for example, or even as they would in a Five Fingers shoe, but you can definitely notice a difference compared to your typical sandal. The added lateral stability is noticeable when walking across uneven surfaces.
The four toe posts are more of a mixed blessing. They definitely help keep your foot properly on the sandal. They also make it more difficult to slip the Decimal on and off. The first few times we put it on we had to use our hands to adjust the toes just-so. Though, now that we've had some practice we can (usually) slide into our Decimals semi-easily.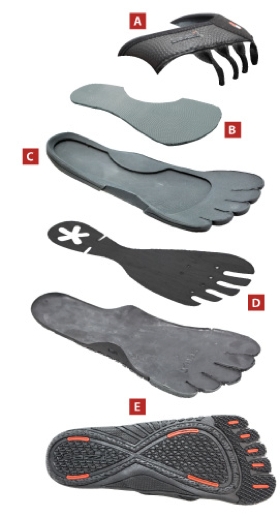 So, the footbed and multiple toe posts are Sazzi Decimal's most photogenic features. But equally as important is this: The Decimal is extremely well made. The construction is not at all like a typical flip-flop. The build quality of the Decimal more compatible to that of a good shoe (and, at $80 a pair, the price is similar too).
The graphic to the right gives a sense of how each Decimal is made. The components, all of which use 100% recyclable material, include:
A) V-strap with a welded seam for performance and comfort.
B) Anti-microbial top sole with a 5mm soft drop.
C) Cushioning in the mid-sole.
D) 2mm DuraShank, which adds stability and resilience.
E) Non-marking triple density out-sole.
All that adds up to the Sazzi Decimal Sandal being one comfortable, durable piece of footwear. Though the Decimals won't make you forget about a good pair of running shoes, you can go jogging in them. Hiking while wearing the Decimals is a delight — there's absolutely no other pair of flip-flops we'd rather walk up a mountain in.
For our full review of the best travel flip-flops, join us on Facebook, follow us on Twitter or check in regularly with our travel blog.
published: 6 Feb 2013

LEARN MORE & BUY | JOIN US ON TWITTER / FACEBOOK / PINTREST / GOOGLE+
More from Spot Cool Stuff:
Barefoot Running Shoes
The Best Socks For Travel (and Everyday Life Too)
Columbia's Powerdrain Shoe Technology
Elsewhere on the web: