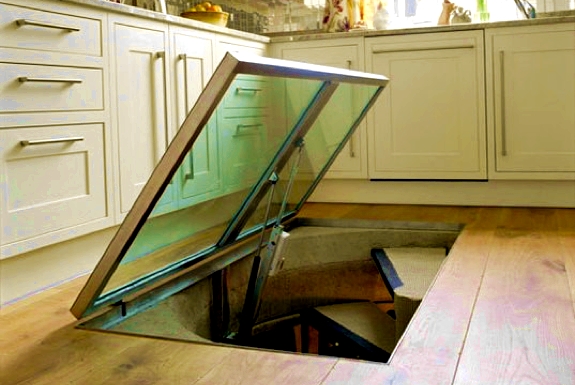 We love trap doors and hidden rooms. And we love wine. So how can we not write about the super cool Spiral Cellar wine storage area?
Now, by "wine storage area" we aren't talking about dedicating a section of your closet to a wine rack. And we don't mean some electrified wine storage appliance where you can keep a case or two. The Spiral Cellar is a special room placed underneath the ground floor of your house where as many as 1,870 bottles of wine can stored under perfect conditions.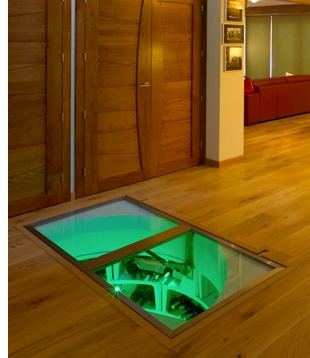 A Spiral Cellar doesn't subtract from the existing livable space of a home because it is buried in the ground and because it is accessed via a trap door—of a sort. The door isn't of the type a James Bond villain would use to dispose of an incompetent henchman. But it is space efficient and potentially cool looking. Some Spiral Cellar owners have a glass door (pic to right) that can be lit up from below with LED lighting. Others have doors that stand out (eg. a wood door surrounded by a tile floor) or are hidden, either by covering the door with a rug or blending the door in with the floor.
Another cool feature of the Spiral Cellar—it requires no electricity. The cellar uses the natural laws of physics to keep wine stored in perfect conditions. Having only paid partial attention during our physics classes, Spot Cool Stuff doesn't understand how the physics of it works other than knowing that the placement of vents work to moderate the cellar's temperature and humidity. (Read more on the Spiral Cellar website.)
There are certain geographic locations were it isn't possible to add a Spiral Cellar to a house—in the Yukon Territory, for example, where ground permafrost is an issue. Generally, though, the Spiral Cellar can be adapted to the local climate. For houses located above a high water table, the cellar can be placed inside a waterproof butyl liner.
The cost of a Spiral Cellar depends on the size you choose and the exact details of the installation. The 650-bottle Spiral Cellar (the smallest available) typically runs £12,835. The mega 1,870-bottle Spiral Cellar will set you back £25,515. At those prices, we hope you'll have enough money left over to actually buy wine.
LEARN MORE | JOIN US ON TWITTER / FACEBOOK / PINTREST |
published: 16 March 2012





LEARN MORE | JOIN US ON TWITTER / FACEBOOK / PINTREST |
Related posts:
How To Hide a Swimming Pool—Inside Your House
LG Blast Chiller Refrigerator ← Cool a Bottle of Wine in 5 Minutes
Cool Hidden Animal Bowls and Tea Cups
Unusual Hotels: Sleep In Old, Giant Wine Casks