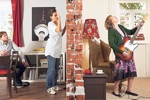 spot cool stuff DESIGN
Imagine the typical prospective home buyer or renter. They learn about a property of interest to them, either online or through an agent, and then go in person to check it out. And then they decide against it. What's the most likely reason why?
According to a new survey from mortgage broker Oceanfinance.co.uk, the most commonly cited answer is: noisy neighbors.
Of course, if you aren't looking for a new place then you might already feel stuck in a stentorian living situation. But you needn't resort to moving, undertaking a major soundproofing renovation or adopting passive aggressive tactics to find some peace and quiet. A few simple home decor changes can help promote silence by absorbing sound. Here's a look at five of those:
---