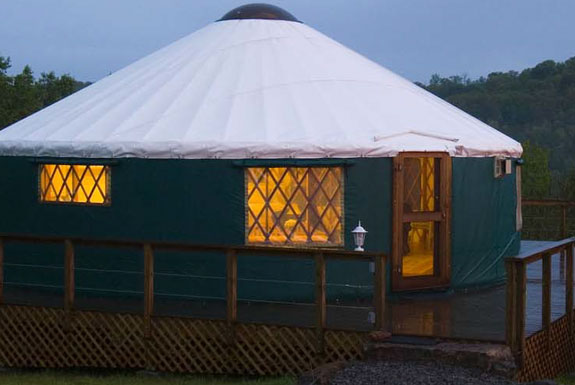 Yurts, the glorified tents that many a nomad and sheep herder in Central Asian calls home, have been catching on among lawyers, doctors and vacationers in the developing world.
The "modern yurt" is a little more plush than its wood and sheepskin counterpart—many include fireplaces, bathrooms (or at least running water), hard wood floors and electricity that might or might not power a large screen television.
But the main reasons why the yurt has be become increasingly popular in the United States, Canada and Europe are surprisingly similar to why they originally become popular in Mongolia, Kazakhstan and Kyrgyzstan. Yurts are efficient to heat, can be placed on virtually any type of terrain, are fast and easy to build and are inexpensive. At the California-based company Pacific Yurts, for example, your basic 115 square foot (10.5 square meter) yurt is a mere $4,445. Even the deluxe 706 square foot (65.5 square meter) is under $10,000. (Herd of sheep not included).
LEARN MORE | READ | STAY IN A CALIFORNIA YURT RESORT