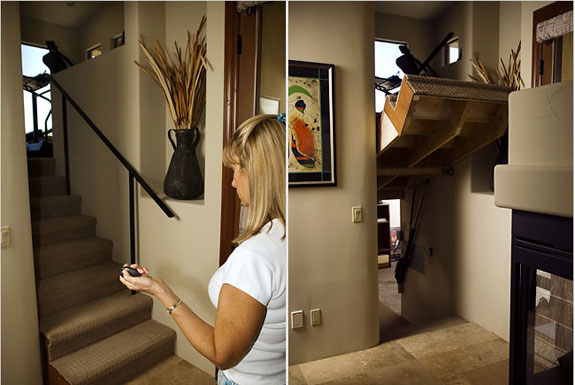 For as long as Spot Cool Stuff has been fantasizing about the house of our dreams — the mansion we would build if money were no object — our imaginary plans have included trap doors, secret rooms and hidden passageways.
For some time, we assumed that installing a hidden door in real life would require a hiring a general contractor who would surely shoot us a suspicious look when we explained what we wanted. But once we started doing the research we learned that there are over a dozen companies with the specialty of installing stealth entrance ways. Some even stock pre-built hidden doors you can install yourself!
And you needn't have a spooky mansion, eccentric tastes or a now-it-puts-the-lotion-in-the-basket creepiness to you to have a secret door either. There are several reasons why you may want to consider having a hidden door in your house.
Primary among those reasons: space efficiency. A normal door occupies wall area that could otherwise be used for, say, a bookshelf. Do you have a room or storage area you don't need frequent access to? Hide the entrance to it behind a fireplace, staircase, mirror, wall panel or a painting.
Some people have hidden doors for security reasons. To conceal a vault, for example. Or to hide a panic room made popular by the 2002 Jodie Foster flick.
Mostly, though, we think there's something about a hidden door that's magical — and exceptionally cool. Check out the photos, below.

Companies that specialize in hidden doors
This is by no means a complete list:
Creative Home Engineering — Spot Cool Stuff's favorite hidden door company. They have the most creative designs and build all types of hidden entryways included armored doors and doors with biometric access control.
The Hidden Door Company — Specializes mostly in bookcase hidden doors but will manufacture designs specific to your situation.
Niche Doors — has high-quality pre-built hidden doors made of wood.
Hide A Door — offers some of the most inexpensively priced hidden doors. Their website has a form where you can request a free quote.
Space San Diego — deals with an array of space saving and optimizing furniture, not only hidden doors but also Murphy beds and stacking stools.
updated: 16 Sept 2012

BUY HOME FURNISHINGS | JOIN US ON FACEBOOK / PINTREST |
5 related posts . . .
Hide a Swimming Pool in your House
The Trap Door Wine Cellar
Modern Murphy Beds
3 Cool Lights from Lumens
The Best Websites To Help With Your Home Remodeling
. . . and 1 unrelated post:
The Best Sandals Resort in Jamaica: A Comparison Review




Click on the photo to go to the website of the corresponding company:


Elsewhere on the web: