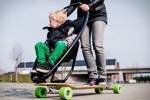 spot cool stuff DESIGN
One of our favorite pieces of luggage is the Samsonite Micro Suitcase Scooter† — it's a regular-looking wheeled carry-on with a built-in skateboard. Flip the skateboard down your bag will scoot you around the airport!
The Suitecase Scooter made us wonder what other products have been combined with skateboards. One surprising such product we found: baby strollers!
Two stroller-skateboard hybrids especially stood out to us. One, the Longboard Stroller from Quinny, is still in the concept phase. The other, the Sidekick Stroller Board from Orbit Baby, is available for purchase today. Spot Cool Stuff takes a look at each:
---