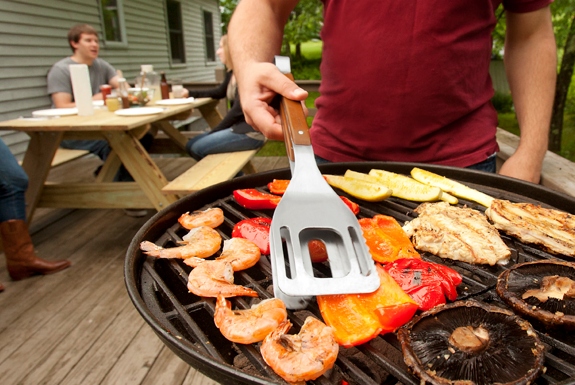 Regular readers might remember our review of the Quirky online store. What's cool about Quirky is this: all the items sold on the site are conceived, designed and marketed through crowdsourcing. That is, groups of individuals gather on the website and collaborate to develop the products sold there. (It's a fun, and potentially profitable, to take part—visit the site to learn more.)
Recently, Quirky started selling several cool items with a barbeque theme. The three that especially intrigued us were an all-in-one grilling utensil, an improved skewer and a two-tiered carry tray. Here's our look at each:





Grip it. Flip it. Serve it.
This utensil was originally conceived of as a "spa-tong-fork-ula" — a spatula, tongs and grilling fork all rolled into one. By the time the Stake BBQ Tool went through the Quirky crowdsourced design process, the all-in-one utensil also included a knife and bottle opener.
Of those five functions, the two-pronged fork is the one we think is most cool; it slides out with the push of a thumb and then tucks discretely back into the spatula for storage. We also like how the wooden handles can be easily locked together and opened. But it's the all-in-one-ness of the Stake that really makes it cool — and efficient when packing for camping or tailgating.

Slide and serve
Like some other grilling skewers on the market, the Quirky Sliders are double-pronged to help keep food securely in place while grilling. Unlike any other skewers available, the Sliders feature a ceramic moveable end piece. It stays cool to the touch, even after it's been on the grill. The result: You can easily slide your freshly BBQed food off of your skewers without getting your hands messy.

Grab and grill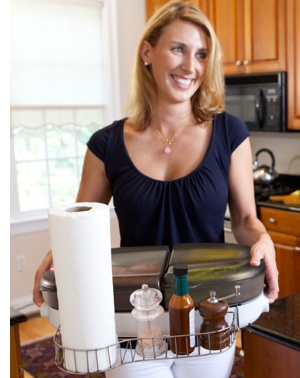 One of the users on Quirky found herself frustrated by having to make multiple trips back and forth to the grill. She wanted to create a tray that would allow her to carry all her grilling essentials in one trip; she also wanted to separate her raw food from her cooked.
On Quirky, her idea idea turned into the Porter, a BBQ tray with two tiers. The large bottom shelf is for cooked foods; it can double as a serving plate. The top tier is subdivided into individually covered compartments — ideal for keeping raw meat apart from vegetables. A rack that attaches to the outside of the tray can be loaded with paper towels, condiments, knives, forks and other assundries. Add it all up and you have the perfect tray to bring out to the grill.
updated: 4 July 2013

Related posts:
Cool Coolaroo Backyard Shading
The Dutchtub Portable Wood-Burning Spa
2 Cool Swimming Pool Toys: a Climbing Iceberg and Inflatable Trampoline

Outside links: