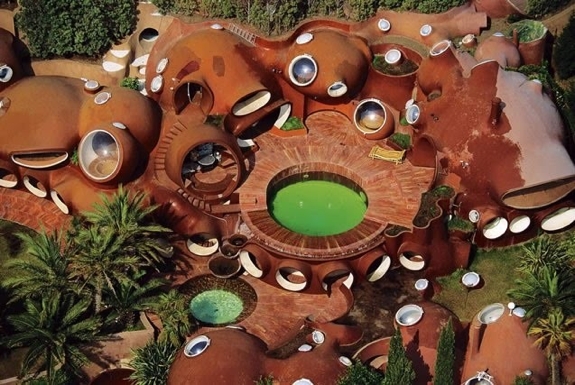 France is a land full of old-to-ancient buildings and a country zealous about guarding its national heritage. So how did a house designed by a Finnish architect and completed in 1989 land a coveted spot on the French Ministry of Culture's list of official historic monuments?
The answer, in a word, is: Bubbles.
It also helped that the owner of said house is French fashion icon Pierre Cardin. And that the house — called the Palais Bulles or Palace of Bubbles — is one incredibly cool piece of architecture.
To Spot Cool Stuff, the Palais Bulles looks like a cross between a futuristic moon house and a 1970s Austin Powers-esque shag pad. But if the shape of the house reminds you of interconnected igloos that might be because the architect, Antti Lovag, spent many hours of his Scandinavian childhood building snow forts.
As an adult, Lovag studied naval architecture and attended a design college before dropping out and teaching himself construction. That whole time, his childhood igloo building experience stuck with him. The igloo shape became his inspiration. Such that today, Antti Lovag has the unusual distinction of being the world's preeminent bubble architect. Not coincidentally, he is also an expert on rounded furniture.
[ ALSO ON SCS: Cool Gifts for Architecture Lovers ]
The Palais Bulles is Lovag's third bubble house† — and by far his most grand. It is set atop the highest point in the ritzy village of of Théoule-sur-Mer, 10 km from Cannes, on a stunning cliff side along the shores of the Mediterranean.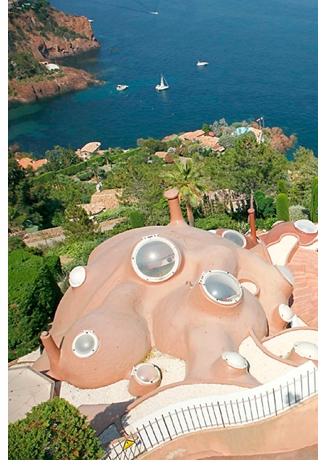 At 1,200 sq. meters (13,000 sq feet) the Palace of Bubbles is the size of an actual small palace. Among its features:
• 10 bedroom suites, each decorated by a different artist (Patrice Breteau, François Chauvin and Gerard Cloarec among them) and each with a large, round bed;
• 18 other round rooms, including a panoramic lounge and reception area;
• a 500-seat amphitheater;
• gardens, ponds and pools scattered across 8,500 square meters (2.1 acres) of land;
• not a single straight line, whose use in architecture Lovag regards as "an aggression against nature."

Bubble Travel in France
These days, the Palais Bulles no longer serves as the personal residence of Pierre Cardin. Unfortunately, you'll still need to be wealthy or well-connected (ideally both) to see the inside — the Palace of Bubbles is a private event venue that hosts grandiose weddings, posh parties and other exclusive events.
But for travelers in France with a hankering for bubble architecture, there are at least two accessible options:
Bubble Tree is a French design company that makes transportable, inflatable, live-in-able bubbles. There are a handful of places around France that rent out Bubble Tree bubbles as nightly accommodations; check out Attrap'Rêves in Bouches-du-Rhone (near Marseille) and Sky River outside of Loir-et-Cher (a two hour drive south of Paris).
The Museumotel is an all-bubble resort in northwest France. The bubble accommodations here are similar in style to — though on a scale much smaller than — the Palais Bulles.
published: 11 Oct 2013

LEARN MORE (French only) | READ THE BOOK |
† Today, Antti Lovag is in his 90s and lives in the first bubble house he designed in Venice.

Palais Bulles: Exterior Photographs

Palais Bulles: Interior Photographs

Palais Bulles: The Book
The book The Palais Bulles of Pierre Cardin by Jean-Pascal Hesse tells you everything you'd ever want to know about how The Palace of Bubbles and Pierre Cardin influenced each other.
READ THE BOOK | JOIN US ON TWITTER / FACEBOOK / PINTREST / GOOGLE+

Also on Spot Cool Stuff:
The Unusual Chain of Igloo Hotels
The World's Narrowest House
Kunsthofpassage: The Building That Sings in the Rain