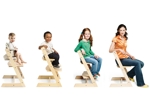 spot cool stuff DESIGN
Mazel tov on your expected first born child. Now comes the first fun part of being a parent — coming up with the perfect baby name — and the first expensive and time consuming part — buying all the stuff you'll need for when little Terwilliger enters the world.
Picking out baby furniture can be especially daunting. Much of it is as expensive as adult furniture. Except, unlike a quality sofa or bed, you can't enjoy baby furniture for long before your little one outgrows it.
Or maybe you can. Some baby furniture is designed to grow with your child from baby, to toddler, to kiddo and even into the tween years and beyond. Here's our review of five especially cool examples:
---