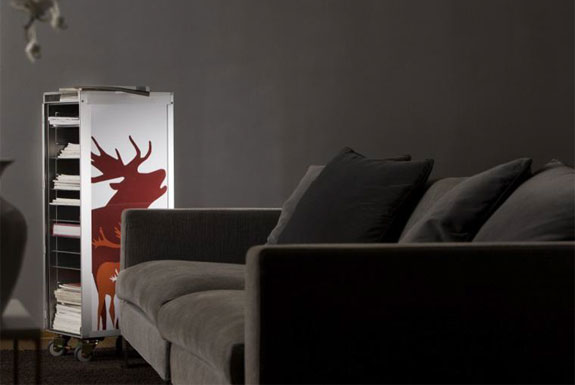 Spot Cool Stuff previously wrote about an airline that was selling it's in-flight meals in local grocery stores. But if that doesn't sufficiently bring the airplane cuisine experience to your home, consider getting an artsy airline food cart from Bordbar.
Bordbar trolleys are, at their core, like those meal service carts used by airline flight attendants (on the dwindling number of flights that still have some semblance meal service). But Bordbar spruced them up in such a way that they are not only cool, but useful too.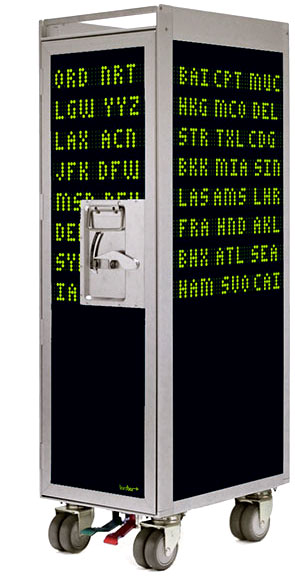 There are four models of Bordbar trolleys to choose from:
The Silver Edition is Bordbar's faithful replica of an airline meal trolley. The exterior design, the foot brake, the door opening latch—they are all based on the real thing. Fortunately, Bordbar has made the Flight Edition a little easier to move around than the real thing; it's also available with a transparent door.
The Flight Edition is our favorite. That's because it isn't designed after a real airline meal trolley. It is a real airline meal trolley. Or, at least it was (and it has the dents and scratches to prove it) before Bordbar refurbished it.
Both of those trolley types feature a customizable interior. Bordbar sells various types of drawers and shelves (including a shelf with LED lights built in!). Each is also available in an array of artistic exteriors, some with a travel theme and others more abstract and patterned. Use a Bordbar Silver or Flight Edition as a dinning room wine rack, to store drinks in the living room or for extra counter and store space in the kitchen.
The Waste Trolley looks like a Silver Edition from the outside but doesn't have the customizable interior. As the name implies, the Waste Trolley is a glorified trash can.
The Bordbar Box is a half-height meal service trolley with a customized interior. The Bordbar Box would make for a very cool bedside table if it weren't for the sad fact that it comes only in white.
Of course, for the full in-flight experience you'll have to do more than buy a Bordbar, and even more than cooking up an airplane meal. We suggest sitting down in a small, uncomfortable chair, then placing another chair immediately in front of your knees, and then asking a friend to occasionally pass by with a Bordbar airplane trolley while bumping into you and wheeling over your feet.
published: 27 May 2011

LEARN MORE & BUY | JOIN US ON TWITTER / FACEBOOK |

Related posts:
7 Items for Reducing Air Travel Stress
Priority Pass Program Review: Access Business Class Airport Lounges
Jumbo Hostel: A Review of Stockholm's Unusual Airplane Airport Hotel
Create Your Own Home Cockpit Flight Simulator





LEARN MORE & BUY | DISCOUNT FURNISHINGS | JOIN US ON TWITTER / FACEBOOK