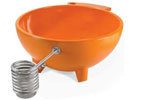 spot cool stuff DESIGN
Spot Cool Stuff adores glamping travel. Glamorous camping can get you out into a natural environment in the same way tent camping does. But it combines that with touches of luxury like you might find at a high-end hotel. After spending much of our youth backpacking on a rock-bottom budget, we think we've earned a bit of luxury.
Much of what we write about glamping on this travel blog concerns resorts that combine aspects of roughing it with aspects of being pampered. (Our review of these 5 especially wondering glamping spots is a good place to start reading about those). We also appreciate products that let travelers create their own glamping experience. Our favorite of those might be this:
It's like a personal hot-springs-to-go. If you have a tub-sized patch of flat ground, wood and 200 gallons (750 liters) worth of water or snow you can have your own spa virtually anywhere.
---