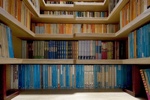 spot cool stuff DESIGN
Spot Cool Stuff loves books. And we love creative staircases. So it isn't surprising that we're drawn to cool stuff at the confluence of both.
Here's a look at two unusual architectural designs that combine stairs with bookshelves. Has it happens, both are located in London. And neither has an owner that's about to move their book collection to an Amazon Kindle anytime soon.
---