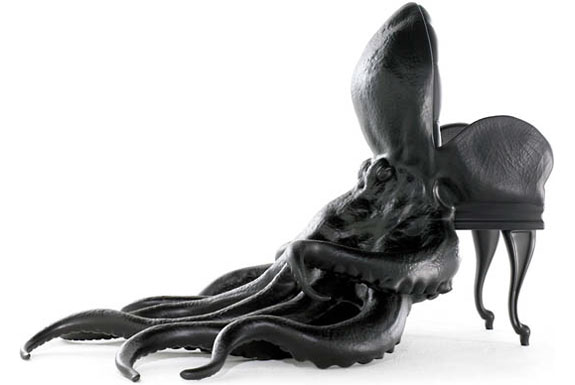 Octopi have three hearts. They change colors to show emotion. (When they're red they're happy, white they're scared). They are able to use tools, build structures, commit what they've learned to long term memory and are otherwise remarkably intelligent, that despite only 30% of their neurons being located in their brains—the remainder are in their tentacles.
So what does all that have to do with this post? Not much. It's all just part of the extra service Spot Cool Stuff provides when presenting our readers with these five cool chairs with designs inspired by our favorite invertebrate.


Maximo Riera
Maximo Riera's version of an octopus chair is the most, um, octopussy of any in this post. The Spanish artist strove to be biologically accurate in his rendering. The octopus head, eyes and tentacles are each sized to the exact specifications of a real octopus, though in the ocean octopi don't tend to have chairs attached to them. The ink-black color gives Riera's chair a somewhat ominous look (or at least it does to our eye) but we can't imagine a better throne for some one who fancies themselves King of the Octopi.
Riera's works are sold in limited quantities. He is currently working on chairs modeled on other animals, including a rhino, beetle and walrus.
LEARN MORE & BUY | JOIN US ON TWITTER / FACEBOOK |




Samwoong Lee
As is obvious from the photo below, Korean artist Samwoong Lee decided to concentrate on the suction cups when designing his octopus chair. (Real octopi have 1,920 suckers or 240 on each tentacle). Less obvious from still photos is that Lee was inspired by octopi's ability to change colors. To create his suction cups Lee used mother-of-pearl. The material changes hue and swimmer based on how light shines upon it.
LEARN MORE | JOIN US ON TWITTER / FACEBOOK |

Pardes Hana
An Israeli artist sells on Etsy what is billed as an "octopus chair." With a shell-like back that folds down it seems like a clam was part of the inspiration too. And the yellow velvet seat makes the whole thing looks like an oversized jewelry box.
The octopus-clam jewelry box-chair can be yours for a mere US$3,800.
LEARN MORE & BUY | JOIN US ON TWITTER / FACEBOOK |

Casamania
Ah, there's nothing like kicking back and putting your feet up on faux octopus tentacles.
Or at least that's what we figured the designer of this chair was thinking. The chair's back is hand knitted with yarn. The voluminous foot rest area consists of 1000-threat count fabric and stuffing wrapped around looped metal wires. The entire design was obtained by the cool Italian furniture company Casamania, though they have yet to offer it for sale.
MORE FROM CASAMANIA | JOIN US ON TWITTER / FACEBOOK |

Ollie the Octopus Chair & Rocker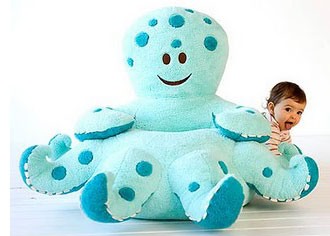 Who knew that a chair based upon Ollie the Octopus—the fictional book character, not the real life psychic—would be so popular? Spot Cool Stuff spent more time than we care to admit trying to find an online store that still has this inviting invertebrate seat (pic to the right) in stock. But no joy.
Happily, you can still buy an Ollie the Octopus rocker. Ollie's super soft tentacles make it a plusher, safer alternative to a wooden rocker. Plus, Ollie will play you a tune when he's rocked back and forth.
LEARN MORE & BUY | JOIN US ON TWITTER / FACEBOOK |
published: 21 Jan 2011





Related posts:
Cool Furniture From Reclaimed Shopping Carts
Dutchtub: The Portable Wood Burning Spa
9 Cool Home Aquariums
Where to See and Swim With Wild Penguins (Other Than Antarctica)