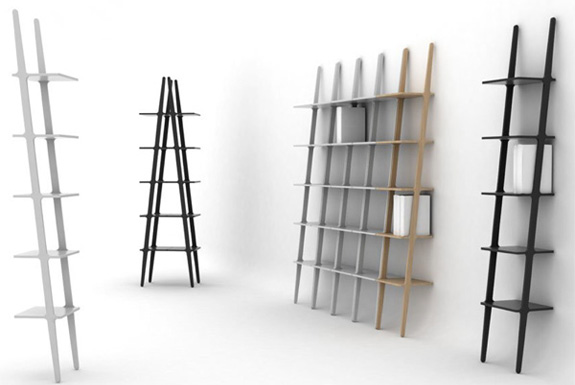 Spot Cool Stuff loves the high design simplicity. Which is exactly why we like the Swedese Libri bookshelf system.
And we aren't the only fans of these bookshelves—the Swedese Libri won the Best New Product Design award at the 2008 Stockholm Furniture Fair.
What's so cool about the Swedese Libri?



We love their contemporary look. The angles of the tilted supporting poles together with the horizontal shelves create an eye-catching style. And that gives the Swedese Libri, designed by Belgian Michaël Bihai, a more open look than any other standing bookshelves we've seen.
We also appreciate the Swedese Libri's adjustable legs, which allow these shelves to be securely stationed on uneven floors, and the solid ash wood from which the Swedese Libri is made.
But what's really cool is the way units in this bookshelf system can be easily combined. Arrange Swedese Libri next to each other along a wall. Or stack them one atop another to form a sort of shelving-system-room-divider. Or possition them back-to-back to form freestanding shelves. The flexibility of Swedese Libri, along with the fact that no wall attachments are required, make it perfect for people who move (or rearrange their furniture) frequently. Check out some examples of how the units can be arranged in the photos, below.
If you are like us you'll have fun finding ways to combine—and then recombine—your Swedes Libri units. As to whether you want them in a white or black lacquer finish, that you'll need to decided before you order.
LEARN MORE & BUY | FOLLOW US ON TWITTER |
Related posts:
The Collapsable Thut Möbel Scissor Shelf Unit
Elastic Bookshelves
Cool Websites For Home Remodeling & Redecoration
Install Hidden Doors & Secret Passageways In Your House





LEARN MORE & BUY | PURCHASE HOME FURNISHINGS | FOLLOW US ON TWITTER