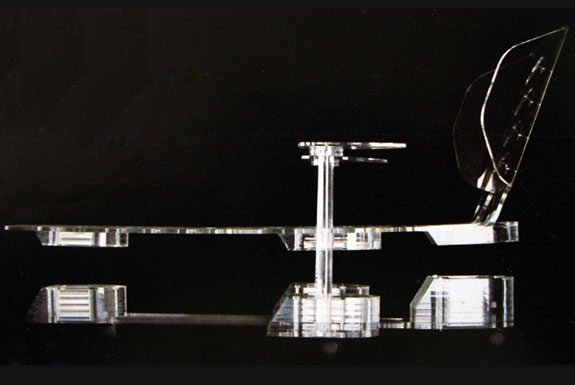 What do you get when Luke Skywalker's Landspeeder in the first Star Wars movie and Marty McFly's futuristic hoverboard in Back To The Future 2 are your inspiration for designing a chair?
You get The Lounger from the British company Hoverit.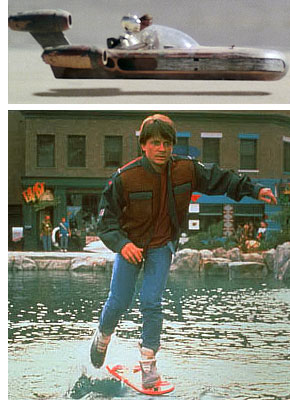 It is a little hard to tell from the photos but watch the video below and you'll see—the Hoverit Lounger really does hover in mid-air! The chair's two side poles (the ones located near the arm rests) are there simply the keep the chair in place.
Unlike a hovercraft, which hovers above the ground on a cushion of air, the Lounger is levitated by four powerful magnets with their like poles aligned. Because it uses these magnets the chair doesn't make any noise or require any electricity. The magnets retain 98% of their original strength throughout the chair's life and Hoverit can build the Lounger to accommodate virtually any weight.
Using magnets, though, does come with some downsides: If you wallet is in your back pocket when you sit on the Lounger then all the information stored on your credit cards' magnetic strips will be swiped clean. Also, if you have a pacemaker then there shouldn't be so much sitting on the Lounger for you.
We are fans of the Hoverit Lounger's sleek look. The chair really does provide some one sitting on it with a sense of hovering. Unlike a rocking chair, the Lounger has no swivel point. So it feels like you are floating on a clear plastic magic carpet. That might not quite cool enough to justify the Lounger's £5,800 price tag. But then think of all the money you'll save after the Hoverit Lounger wipes out the data on your credit cards.
LEARN MORE & BUY | BUY HOME FURNISHINGS | FOLLOW US ON TWITTER |
Related posts:
3 Luscious Lumens Lights
Builtby: One Lamp. 1,607,045 Options.
8 Highly Unusual Items You Can Buy on Amazon.com – really!
Cool Websites For Home Remodeling & Redecoration






LEARN MORE & BUY | BUY HOME FURNISHINGS | FOLLOW US ON TWITTER