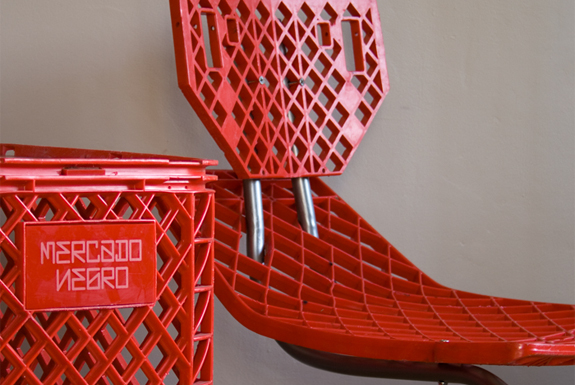 If architects can construct entire apartment buildings from used shipping containers and Thai monks can build a temple from discarded beer bottles then why can't an artist create furniture from old shopping carts?
That perhaps is what self-described cross-media visual designer Ramón Coronado asked when he spent 12 weeks at his Los Angeles home creating his Mercado Negro collection.
Mercado Negro (Spanish for "black market") began, as many artistic projects do, as a statement on society. In the words of Coronado:
I took it upon myself to take a shopping cart and make a statement with it. I reclaimed LA's iconic shopping cart and created furniture for kids to enjoy in these urban Los Angeles areas. The project is a criticism of the scarcity of recreational functions for kids growing up in a dense city like Los Angeles.
From that conceptual start, Coronado dismantled a used shopping cart, bent the plastic portions with heat and took an angle grinder to the steel portions.
The end result was the table, chair and lamp depicted in this post's last photo. Of those three objects we personally are most taken with the chair. Not that we'd choose to have any of them in our house. But the concept behind this sort of upcycling—taking an object and transforming it into another of greater value—is undeniably cool.
published: Feb 2010

LEARN MORE | BUY HOME FURNISHINGS | FOLLOW US ON TWITTER |
Related posts:
Spend the Night in a Recycled Pipe
Swedese Libri: Elegant Bookshelves for the Nomadic
The Samsung Reclaim: The Free Smartphone Made From Corn
The Startling Convenient Way To Sell Your Old Electronics





LEARN MORE | BUY HOME FURNISHINGS | FOLLOW US ON TWITTER
Read more reviews of cool furniture