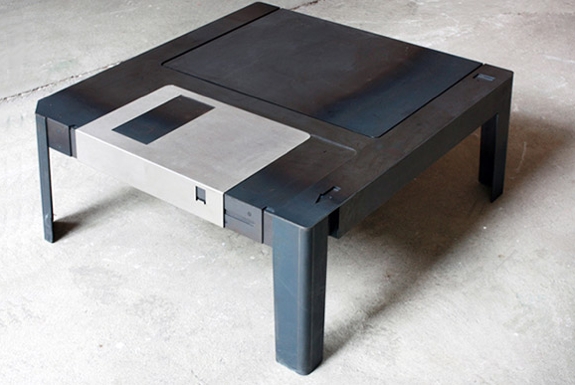 Spot Cool Stuff previously reviewed 10 creative pieces of jewelry geeks will love. If are thusly geek-inclined but looking for less of a personal accessory and more for something around-the-house, consider one of these five pieces of geek-friendly furniture. Each was inspired by a video game or a science fiction movie:

Floppytable
Computers no longer use floppy disks. But hat relic of desktops past lives on in the form of the Floppytable. It's 27.5 inches wide, or 24 inches wider than the disk it is based on. It's also very much not made of plastic. The Berlin-based design firm of Neulant van Exel constructs Floppytables out of welded stainless and hot-rolled steel. Though the table's coolest feature is one borrowed directly from the design of the original floppy: The metal shutter can put pulled back to reveal a secret compartment. See it in action in the animated GIF, below†.
† You may need to wait a while for the animated GIF — the 2nd photo below — to begin. If that doesn't work please try reloading this page. Our apologies. Much like the floppy disk itself, animated GIF technology is a bit outdated.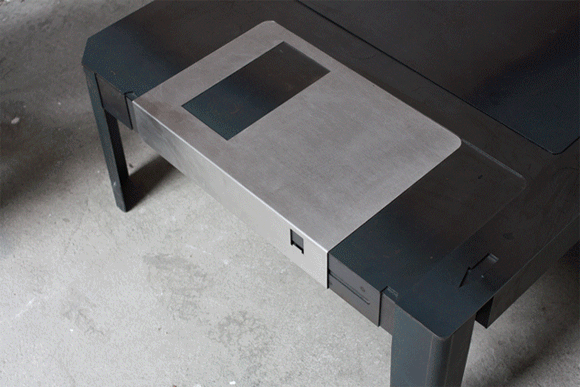 Star Wars R2-D2 Folding Armchair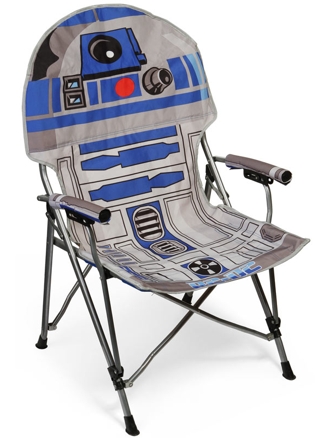 Poor R2-D2. The lovable beeping droid from Star Wars, once tasked with delivering messages for the Rebel Alliance and keeping the blueprints of the Death Star safe, has now been reduced to holding up your butt as, literally, a piece of lawn furniture. But at least he's doing it in style. If you're going to a picnic absolutely nothing could say "geek" more than showing up in an R2-D2 Folding Armchair. And, unlike the other geeky furniture options in this review, you won't have to sell a C3PO's worth of scrap metal to pay for it.
Price: $39
(Also on Spot Cool Stuff: Stay in the Star Wars Hotel That Was Luke Skywalker's Home)

Space Invader's Couch
Spot Cool Stuff's first serious video game addiction came playing Space Invaders. It left quite an impression. So we could never have a Space Invader's Couch, least we start panicking about rows of couches marching down in neat rows to attack us. But if you don't suffer from that particular trauma — and have an extra five grand laying around — you can snag one of a limited number of these couches available from Russian-born, Japan-influenced and currently Seattle-based artist Igor Chak. Each features memory foam cushions and a secret compartment for beer. (Each couch, that is, not each Igor Chak).


(Furniture on sale: Huge Deals on Metro '5 Series' Sactionals)


Nintendo Controller Coffee Table
This Nintendo Controller Coffee Table is made from maple, mahogany and walnut, so you might dismiss it as nothing more than an expensive piece of geek-inspired art. But here's the cool thing about it: Remove the glass top and the table functions as a real game controller! For a real Nintendo, we mean, not a giant wooden Nintendo. See it in action in the video, below.

Star Trek TOS Captain's Chair
Here's a piece of furniture that can take you were none has before: Captain Kirk's command chair from Star Trek. No, it isn't the exact chair from which William Shatner guided The Enterprise‡. But it is a perfectly-to-scale replica, complete with all the switches, communications speakers and lights of the original.
If you girlfriend won't let you get one . . . though, who are we kidding? If you are considering buying this thing you don't have a girlfriend. But if the price for this replica chair is, um, a bridge too far, you can get an inflatable version for about $5,950 less.
‡ That chair was sold in a 2002 auction for over US$300,000.
published: 7 March 2013


More from Spot Cool Stuff:
The Best, Creative Dresses for Children
Gaiam's Balance Ball Chair
Furniture That's Also a Musical Instrument
Elsewhere on the web: