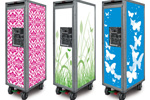 spot cool stuff DESIGN
Spot Cool Stuff previously wrote about an airline that was selling it's in-flight meals in local grocery stores. But if that doesn't sufficiently bring the airplane cuisine experience to your home, consider getting an artsy airline food cart from Bordbar.
Bordbar trolleys are, at their core, like those meal service carts used by airline flight attendants (on the dwindling number of flights that still have some semblance meal service). But Bordbar spruced them up in such a way that they are not only cool, but useful too.
---