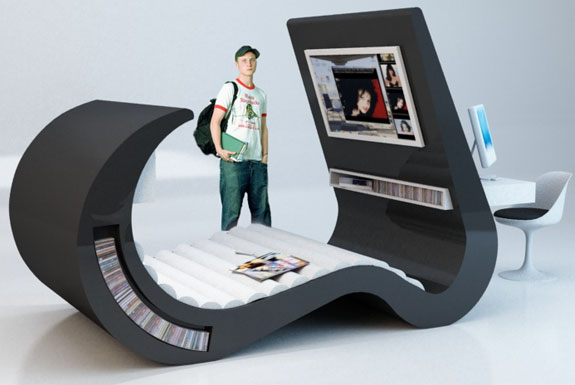 On any chaise lounge you can watch television. The Wave Chaise lounge is a television.
The designer of this stunning curved multimedia lounge, Brazilian Roberta Rammê, explained that her work on the Wave Chaise was "inspired by the values and personality of today's teenager." We can only presume that the teenage value she is talking about is laziness.
While keeping a slouching position on the Wave Chaise a teenager is able to conduct many of the leisure activities important to that age group: texting and talking on a cell phone (there's a phone base and charger on the left side of the Wave Chaise), listing to music (the long slot on the right is sized for CDs), reading Teen Vogue and comic books (there's a bookshelf and reading light within arm's reach above the slouching teen's head), and watching TV and playing video games (on the built-in 42-inch flatscreen).
Currently the Wave Chaise is in concept form only. Based on our informal market research, teens would have a very high interest in purchasing the Wave Chaise provided they had enough money—and didn't have to get off the couch—to do so.
BUY HOME FURNISHINGS | FOLLOW US ON TWITTER |
Related posts:
Contemporary Murphy Beds
Inexpensive HDTV Sets
Shuttle D10 – The Cool Media Center That Happens To Be A PC



BUY HOME FURNISHINGS | FOLLOW US ON TWITTER