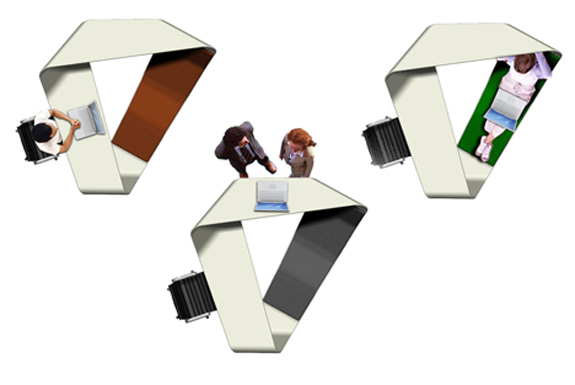 Designers are finally starting to come around to the idea that a work cubicle can be more than a desk and three bland walls. A cubicle needn't be the drab workplace that imprisoned the protagonists of Office Space and Dilbert. To wit: the Workflow "inverted office cubicle" from the multidisciplinary Swedish design studio o4i.
The Workflow is a single contiguous piece of stainless steel with three functions (see photo, above): There's your typical desk space, that looks a little small to us but is at least large enough for a laptop and some papers. There's a stand-up meeting space for socializing and holding small (and presumably short) meetings. Most cool of all, there's a built-in one person lounge area that employers no doubt hope people would use for ergonomically working on their laptops as opposed to, say, napping.
At the moment the Workflow is only in concept form. Check back here for when, or if, it becomes commercially available. In the meantime, check out the two other photos, below.
LEARN MORE ABOUT O4I | FIND FURNISHINGS | FOLLOW US ON TWITTER |
Related posts:
Cool Websites To Help With Your Home Remodeling or Redecoration
8 Bizarre Items Sold on Amazon.com – really!
The Multimedia Chaise Lounge
The Modern Murphy Bed Renaissance
Hidden Doors an Secret Passageways




LEARN MORE ABOUT O4I | BUY HOME FURNISHINGS | FOLLOW US ON TWITTER