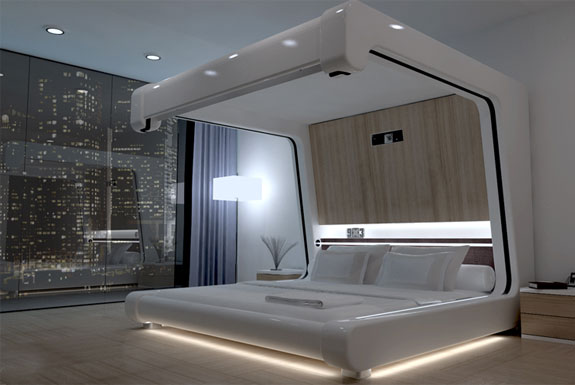 Imagine a network of interactive multimedia beds—located in hotels and airport lounges around the world—that would automatically know your favorite music, your travel schedule and your television preferences.
Creating that network is the ambitious goal of Yoo-Pod Ltd. and their Somnus-Neu project, named after the ancient Roman god of sleep but billed as "the future of beds." And with all of these beds' high tech features it is easy to see why.




The Somnus-Neu bed includes:
• An internet connection, either through wifi or ethernet.

• An entire audio-visual system with an HD video projector and 5-point audio system that includes drivers mounted beneath the mattress—hook up an iPod, watch cable TV or DVDs or stream media online.

• Mechanized curtains and a drop-down screen that can be used to completely enclose the mattress.

• LED lighting under, above and around the bed—turn on a reading light, create your own light show or set a sensual mood.
And all of that is controlled by two retractable 17-inch touch screen monitors (see photo, below).
But the most remarkable feature of the Somnus-Neu beds is the "data chain" that links them together. The users of Somnus-Neu beds are assigned RFID (radio-frequency identification) cards and granted access to a website where they can input their appointment and travel schedule, contact numbers, meeting notes and media preferences. When users arrive at a Somnus-Neu bed an RDIF card reader determines who they are and downloads their data.
So, when you use a Somnus-Neu your bed can automatically play the music you like, wake you for your meetings and inform you of changes in your airline flights.
The makers of the Somnus-Neu are currently negotiating with airlines and hotels for placement of these high-tech beds. Look for them on your travels as early as mid-2010.
LEARN MORE | BUY HOME FURNISHINGS | FOLLOW US ON TWITTER |
Related posts:
Sleep Revolution: Better Than A Box Spring
Cool Websites For Home Remodeling & Redecoration
The Multimedia Chaise Lounge
Access Airport Lounges (Even When Flying Economy)
Inamo: The London Restaurant with Interactive Tables




LEARN MORE | BUY HOME FURNISHINGS | FOLLOW US ON TWITTER