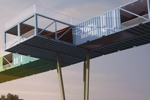 spot cool stuff DESIGN
Shipping containers. Is there anything they can't do for the environmentally-conscious architect?
Shipping containers can be stacked and arranged into all manner of cool buildings. They've been fashioned into a shipping container amphitheater. They've been melded into a shipping container office park. Outside of Seattle, you can even order an extra-hot half-caf double-tall non-fat extra-dry cappuccino from a shipping container Starbucks.
The problem is: all the world's shipping container buildings aren't near enough to make use of the estimated 800,000 containers that are abandon by shipping companies every year. Which is why Spot Cool Stuff was thrilled to learn about the ECOntainer, the world's first bridge to be constructed out of used shipping containers.
---