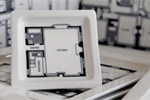 spot cool stuff DESIGN
You don't need to be an architect to love cool architecture. Urban planning and building design is an interdisciplinary passion, attracting the likes of art enthusiasts, engineers, history buffs, designers and travelers. Chances are that at least one person on your gift shopping is among those.
With that in mind, here's our roundup of seven inexpensive—and one not-so-much—gifts for architecture enthusiasts. For this review we specifically excluded architecture magazines and books (of which there are a huge and excellent variety to choose from). We also nixed items used by working architects in their craft, like drafting tables or home design software.
---