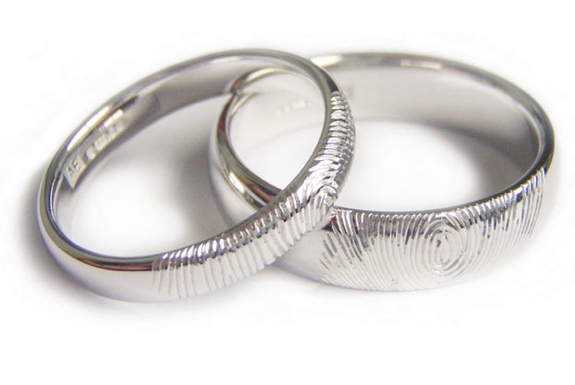 Here's a creative idea that's part artsy, part CSI and all cool: fingerprint rings. That is, a ring with a fingerprint implanted into the metal.
Each person's fingerprint is unique. So incorporating the fingerprint of your special someone on an engagement ring or wedding band is a way of making the jewelry equally as unique. (Insert a pun about fingerprint rings possessing a "personal touch" here.)
For such an unusual sounding idea, a surprising number of jewelers offer fingerprint rings. Here's a rundown of our four favorites:

brent & jess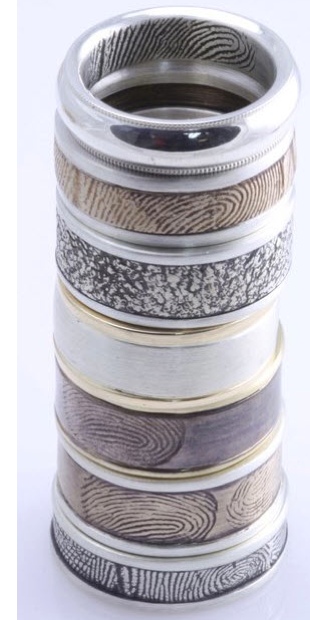 Master Jewelers Brent and Jessica Williams might be the world's foremost experts on fingerprint rings. The husband and wife team have been making fingerprint rings by hand in their studio on the coast of Maine since the early 2000s.
In that time, the brent & jess company have sold finger rings in a wide variety of styles. The couple have crafted rings with the fingerprint on the interior of the band, on the exterior and even on a ring with the fingerprint on both the interior and exterior (which allows for two prints on a single ring). That large selection makes brent & jess the first place to look if you have a specific ring in mind. And if they don't have want you want they'll custom design your ring for you in either gold, platinum and palladium.
Three other reasons why Spot Cool Stuff are huge fans for brent & jess:
• They use an unusual production method—one they developed themselves—that "stamps" the fingerprint on the ring. Many other fingerprint rings use an artist's rendering of a fingerprint, not the print itself.
• They purchase their raw materials from suppliers who are environmentally responsible and use at least half recycled material.
• Fingerprint rings from brent & jess are extremely reasonably priced; most are in the US$200~300 range.

LEARN MORE & BUY | JOIN US ON TWITTER / FACEBOOK / PINTREST |

Fluid Forms
Fluid Forms, a wonderful little company in Austria, specializes in personalized design products. Their fingerprint rings have the print on the interior of the band, usually engraved in high-contrast black silver.
When deciding on a fingerprint ring, choosing an interior versus exterior location for the print is a key choice. When it is on the interior, the fingerprint isn't visible while wearing the ring, of course. Some people prefer that hidden symbolism. Others want the ring's most distinctive feature, the fingerprint, to be visible front and center.
The rings from Fluid Forms are so beautiful, even sans fingerprint, that we don't mind the print being "hidden." Fluid Forms make their rings by constructing a wax mold and then casting that in silver. As a result, the fingerprint that ends up on the ring is an accurate replica, as with the rings from brent & jess (above). Unlike the rings from brent & jess, those from Fluid Forms are expensive: €1,068.
LEARN MORE & BUY | JOIN US ON TWITTER / FACEBOOK / PINTREST |

Andrew English
The fingerprints on the rings by British jeweler Andrew English are hand drawn. So they aren't completely identical to the original fingerprint. But then in an increasingly biometric world that might be a good thing. (Viz: the fingerprint-secured external hard drive we previously reviewed).
Andrew English produces fingerprint wedding rings in white, yellow and rose gold, as well as platinum. For each, the fingerprint has a brushed metal look that's more subtle than, say, the Fluid Forms rings (above).
LEARN MORE & BUY | JOIN US ON TWITTER / FACEBOOK / PINTREST |

Rock My World
Jewelry caster and designer Jackie Kaufman makes wonderfully earthy-looking fingerprint rings in her studio in Florida and then sells them through her Rock My World Etsy store. That earthy, organic look is partly a result of Kaufman's style and partly because she uses completely recycled silver to make her jewelry. Old silver is melted down and then poured into a wax mold (that includes the fingerprint). No solder is used. As a result, a Rock My World ring is not only cool-looking but also eco-friendly.
Kaufman's heart band (the one pictured below) might be Spot Cool Stuff's single favorite fingerprint ring. There's no setting for a stone, but we love how the fingerprint appears around almost the entire exterior of the ring. From a distance, the fingerprint looks like a rough pattern. It isn't until you see the ring up close that you can tell what it is.
LEARN MORE & BUY | JOIN US ON TWITTER / FACEBOOK / PINTREST |
published: 8 Feb 2012





. . . and for after the wedding, check out our comparison of Bora Bora's luxury honeymoon resorts!