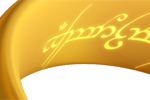 spot cool stuff DESIGN
Sadly, these Star Trek pins do not double as a communication devices. But they were cast from the exact pins worn in the 2009 movie.
Every inner nerd needs to be decorated. To that end, here's a Spot Cool Stuff selection of ten pieces of jewelry that are geeky but may also—depending on your point of view—look cool.
---