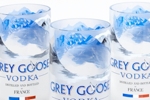 spot cool stuff DESIGN
Time was that products and materials were either recycled or not. These days, "upcycled" products are becoming increasingly popular. The difference between "upcycling" and "recycling" being that the former involves reusing a material without degrading its quality or composition. So, used beer bottles being turned into jeans or asphalt or new beer bottles are examples of recycling (because the old beer bottles are melted down into cullet before being reused). But used beer bottles being turned into, say, a Thai temple is an example of upcycling.
In the increasingly diverse (and, some would say, nutty) language around eco-friendly concepts, other terms for reusing material emerged. One can not only recycle or upcycle but also downcycle, freecycle, precycle and e-cycle. But there's only one other -cycle we're concerned with for this post: Hipcycle.
---