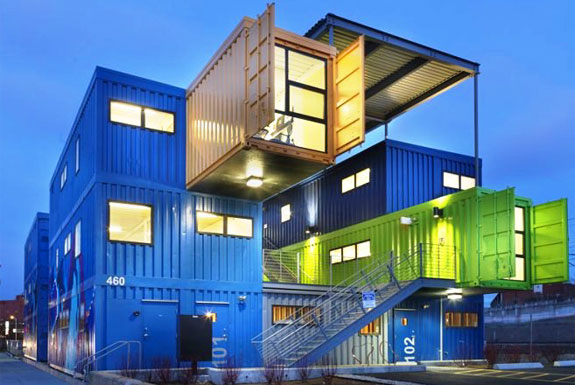 Since we published our review of 5 cool shipping container buildings, many more have been built. One of those: The Box Office in Providence, Rhode Island USA.
The Box Office was constructed using 32 old shipping containers. In that way, it upcycled 94 tons of steel. But that isn't the Box Office's only environmental benefit. It also uses 25% less energy than a typical new office complex of comparable size. It produces 67% less polution in its storm water run-off through the use of rain gardens. And the Box Office was constructed using a variety of environmentally-friendly materials, such as non-petroleum-based insulation.
A Conversation with Peter Gill Case
Spot Cool Stuff is thrilled to be included in a small group dinner with Box Office owner and developer Peter Gill Case. The topic of conversation: cool, eco-friendly architecture.
The dinner is part of the Nourish event to help raise money for the Public Conversations Project, a non-profit dedicated to promoting constructive dialog between people about their conflicts and disagreements. (Lord knows, the world could use more civility in our public conversations).
Our dinner with Case is one of eight that are part of the Nourish fundraiser. Each dinner features an expert speaker on a different topic. Among them, Mary Catherine Bateson will be discussing the impact of humans living longer and David Rockefeller Jr. will be asking How deep are the oceans?
At the risk of being rude, Spot Cool Stuff will be tweeting throughout the Peter Gill Case dinner event, which begins at 7pm EST (-5 GMT) on Saturday, April 30th. See those tweets below. Or, better still, join us on Twitter.
To follow along with all the Nourish dinners on Twitter search for the #NourishEvent hashtag.
Event Tweets
Tweets Spot Cool Stuff sent out about the Nourish dinner with Peter Gill Case, with the more recent ones first:
updated: 30 April 2011

LEARN MORE: PUBLIC CONVERSATIONS PROJECT / PETER GILL CASE |




LEARN MORE: PUBLIC CONVERSATIONS PROJECT / PETER GILL CASE

Related posts:
Cool Architecture: Rotating Dome Houses
Inside the Hidden Kitchen, Paris's Secret Restaurant
A Review of Coolaroo Shade Sails