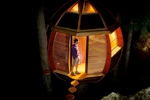 spot cool stuff DESIGN
If a tree falls in the (Canadian) woods does it make a sound?
If it's a Whistler-area Hemlock that's home to a previously secret tree house, the answer is a resounding yes. In fact, the general public is now weighing in on the fate of novice carpenter Joel Allen's architectural delight "HemLoft."
Driven by the appeal of building the structure where it wouldn't be found and the lack of funds to purchase land, Allen stealthily built the egg-shaped tree house on nine acres of Canadian government-owned forest in the backwoods of Whistler.
---