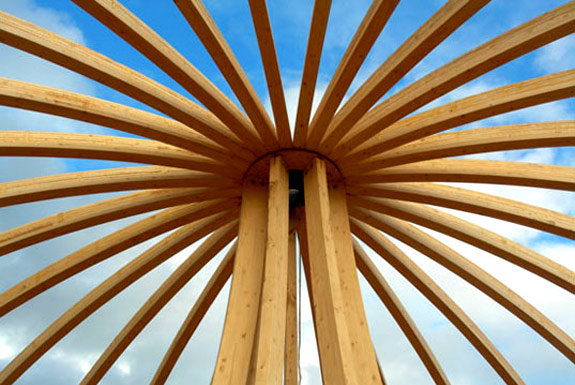 You heard it here first: Spot Cool Stuff plans to expand the scope of our design channel over the next year. But before getting to that here's a look back at some of our favorite articles from 2009:

If you were reading our design blog in February 2009 you were among the first to learn of an enormous cave house that went up for sale on eBay. This cave dwelling has long since been sold but Batmen-want-to-be can still read about it in one of our favorite posts from this past year.

There are no dials, no moving hands, no digitally rendered numbers on these watches. Can you figure how from the photo below how they tell time?

The design of these "shade sails" are exactly the sort of melding of form and function that grabs the attention of Spot Cool Stuff.

It's your own hot-springs-to-go! Click on the photo below to see how the Dutchtub works and how easy (or not) it is to bring one with you on your next trip.

Oh, how far hammocks have come since pre-Columbian natives in South America wove together sheets from the bark of a Hamack tree and strung them up between two poles.

Hidden bookshelf doors and secret passageways behind fireplaces—these don't have to be the exclusive stuff of movies and eccentric millionaires. Here's a review of companies that can add a clandestine element to your home.

In the 1970s murphy beds were what unfortunate single men had in their undersized apartments. Today they've become cool again as the hidden bed concept has been incorporated into high design furniture.

Our planet currently has more than 1,000,000 shipping containers not being used to transport products. Most are just sitting idle. But a few have been put to use by creative architects. Check out these five cool buildings.

Shoe designers are slowly catching on to the fact that the world's best designed footwear is, in fact, bare feet. Here's a review of two shoes meant to mimick the benefits of bare feet. One of these shoe models—Vibram FiveFingers—also made the list of our best travel products of the year.




Where's my front door again? Living in one of these rotating domes might not be without its complications. But these alternative buildings are extraordinarily durable, environmentally friendly and, oh yeah, very cool looking.

Coming in 2010
In the next year we'll continue providing inside looks into dome houses, shipping container buildings an other cool architecture. A virtual tour of upside-down homes around the world anyone?
Also included on our editorial calendar are reviews of bathroom accessories and furniture (starting with a collection of cool sinks & faucets), a review of live jewelry and a peak at some real-life designed inspired by virtual reality. We'll also start reviewing more cool fashions home accessories.
Stay up-to-date on all of our design posts by following us on Twitter, subscribing to our RSS feed, signing up to receive our posts by email (in the green box at the top right of every SCS design page) or simply return back to our design blog often.
published: Jan 2010

Related posts:
Best of Spot Cool Stuff WEBSITES
Best of Spot Cool Stuff TRAVEL
Best of Spot Cool Stuff: Travel Gear & Gadgets
Best of Spot Cool Stuff: Unusual Hotels
Best of Spot Cool Stuff: Animal Travel