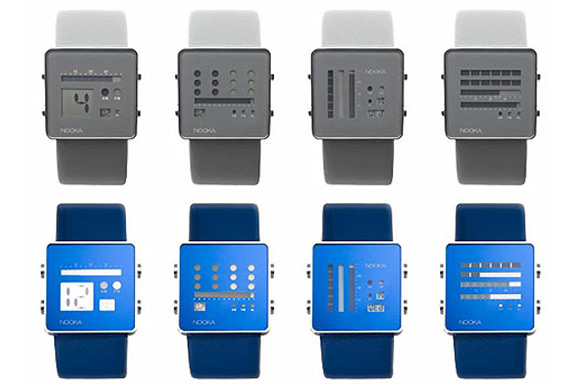 Wearing a Nooka watch you spend a lot of time hoping a stranger will approach you asking what time it is. That way you can pull up your shirt sleeve, twist your wrist around to show them your watch and then see a wonderful, bewildered expression appear on the stranger's face.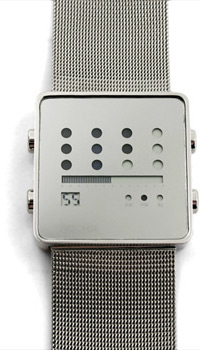 A Nooka does not look like an ordinary watch. In fact, it does not seem like one could look at a Nooka watch face and tell what time it is at all. The Nooka seems more like a mix of modern art and some highly scientific piece of equipment that measures, say, radiation levels.
Once you understand it, there's something elegant—and very cool—about the Nooka system for depicting time. Take the watch on the right, for example. It shows the time to be 8:25.55pm. Can you figure out how?
The big dots at the top of the watch signify the hours; 8 of them are illuminated. The middle bar has 59 LED slots; the more of them that are filled in the more minutes of a given hour has passed. The counter on the bottom left shows seconds that have elapsed. The dots on the bottom right show whether the time is AM, PM or whether you are setting in alarm; in this case the PM dot is illuminated. And there you have it: 8:25.55pm.
Nooka produces several variations of this watch face (see the photos below for some of them) though they all depict time along the same basic principals as our example watch does. Most Nooka watches include an alarm, back lighting and a water resistant case. They are available in a rainbow of colors. One—the Nooka Glow Zub Zen H—even glows in the dark. Though it isn't as much fun showing people your Nooka watch when you can't see their reaction to it.
Available for sale through Elsewares.
BUY @ ELSEWARES | BUY HOME FURNISHINGS | FOLLOW US ON TWITTER |
Related posts:
O-Ring Digi Watch
The Normal Wristwatch And Wall Clock



BUY @ ELSEWARES | BUY HOME FURNISHINGS | FOLLOW US ON TWITTER |