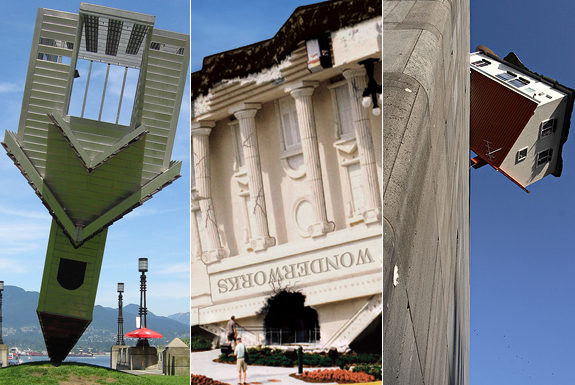 ˙uʍop ǝpısdn plɹoʍ ǝɥʇ uɹnʇ ʇɐɥʇ—puɐloԀ puɐ ɐıɹʇsn∀ '˙∀˙S˙∩ ǝɥʇ 'ʎuɐɯɹǝפ 'ɐpɐuɐƆ 'uıɐdS uı—sǝɹnʇɔnɹʇs uǝʌǝs ǝsǝɥʇ ɟo puoɟ ʎllɐıɔǝdsǝ sı ɟɟnʇS looƆ ʇodS ʎɥʍ sı ɥɔıɥM ˙ʎʇılɐǝɹ uo ǝʌıʇɔǝdsɹǝd ɹnoʎ ǝƃuɐɥɔ uɐɔ ʎǝɥʇ :ǝɹnʇɔǝʇıɥɔɹɐ puɐ lǝʌɐɹʇ ɥʇoq ɟo ʇɔǝdsɐ looɔ ǝuO




Die Welt Steht Kopf— Trassenheide, Germany
The northern German island of Usedom is known for its spa culture, its nudist resorts and for its beaches with sand so fine it "sings." But there's also a more unusual attraction here: the upside-down Die Welt Steht Kopf (The World Stands on its Head) house.
And not only is the house upside-down but so is everything INSIDE the house. If that weren't Alice-In-Wonderland weird enough, on the grounds of this structure there's also a miniature castle and an oversized bench. Constructing all this was so disorientating for the workers who built Die Welt Steht Kopf that they could only work in three hour shifts. Their labor allows visitors today to take all sorts of optical illusion photographs (see example below).
LEARN MORE (German only) | FOLLOW US ON TWITTER |





Device to Root Out Evil—Vancouver
It is cheating a bit to include The Device to Root Out Evil in this post. (There's a sentence we never imagined we'd be writing). This "device" isn't a house so much as a sculpture of an upside-down chapel by American artist Dennis Oppenheim. The piece was originally commissioned by Stanford University, which apparently wan't very specific in its request to Mr. Oppenheim because it immediately dismissed his work as "too controversial."
Spot Cool Stuff thinks art, especially on a university campus, is supposed to be controversial. And the sculpture itself is rather amazing—it's one of the few pieces of architecture that has an ability to transform itself throughout the day depending on the light. (The Taj Mahal is another). In any event, after bwing ostricized from Stanford the Device to Root Out Evil went on a sojourn to the Tate Gallery in London, the Whitney Museum in New York and Olympic Park in Seoul before finding a permanent home along the water in Vancouver.
If you go: See our review of three cool, yet inexpensive, Vancouver B&Bs
LEARN MORE ABOUT DENNIS OPPENHEIM | FOLLOW US ON TWITTER |

Czapiewski House—Szymbark, Poland
The tiny Polish village of Szymbark more than doubles in population when its upside-down house is open to tourists. Like Die Welt Steht Kopf (see above) all the furnishings inside the house are upside-down too. But unlike its German counterpart, the architect of this structure, philanthropist Daniel Czapiewski, didn't build his house for the sake of being weird. Instead it is supposed to be a reflection of the backward time Poland was under Communist rule. This artistic statement might be lost on you when you are inside the house with throngs of tourists trying to work out which way is up.
LEARN MORE ABOUT SYMBARK (Polish only) | FOLLOW US ON TWITTER |

WonderWorks—Orlando, Florida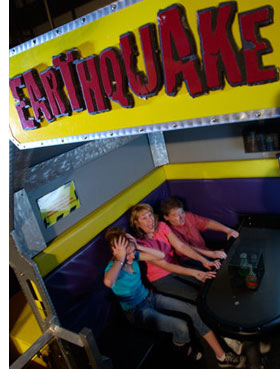 WonderWorks seems to take pride in being "Central Florida's only upside-down attraction." If this implies that there are upside-down attractions in southern, northern, eastern and western Florida we don't know of them.
We do know that WonderWorks is very Orlando. Which is to say, very overdone and amusement-park like. Kids tend to love the interactive exhibits and activites, from playing laser tag to experiencing a 5.3 Richter-scale earthquake. Parents will want to take a few Advil (and perhaps a set of ear plugs) before attending but will at least be thankful that everything inside WonderWorks is rightside-up.
If you go: If you are visiting multiple Orlando attractions you'll save money with a Go Orlando card.

LEARN MORE | FOLLOW US ON TWITTER |

Old School House Museum—Lee Vining, California
Most of this museum near Yosemite National Park is mostly average—just some knickknacks from the region's history like an old truck, an antique canon and former school house. But for some reason that is not at all clear to Spot Cool Stuff the mining exhibit is in the upside-down shack pictured below.
LEARN MORE | FOLLOW US ON TWITTER |

"House Attack"—Vienna, Austria
Viennites (or Viennoids or whatever one calls the residents of Vienna) must have done a double take after an unusual feature was added atop one of the buildings in the city's museum district in 2006. As part of an exhibit by artist by Erwin Wurm titled with the practical advice "Keep a Cool Head", the MUMOK (the Museum of Modern Art, or MUseum MOderner Kunst in German) added what appears to be small family house violently flung upside-down onto a top edge of the building. Sadly, Wurm's exhibit is now gone but the MUMOK is still a must-visit for Vienna travelers interested in art and/or surrealism.
LEARN MORE | FOLLOW US ON TWITTER |

House of Katmandu—Majorca, Spain
The sun-dreniched Mediterranean island of Majorca is a Mecca for partying beach-going tourists. So what better place for a group of investors to build a Himalayan-themed amusement park?
Visitors to this self-describe "Tibetan-style mansion" are herded from room to room for the ostensible purpose of following the life and times of a completely fictional character who was supposedly "a rugged adventurer on a life-long quest for a legendary red jewel, an ancient monk, a mysterious sherpa and a magnificent mermaid princess."
The concept of a Tibetan living in a mansion, a mermaid existing in a snowy landlocked region and anyone wanting to leave a real beach to experience an artificial mountaintop is so surreal that we can only imagine that the House of Katmandu designers decided to complete the nonsensical experience by making the exterior of their building appear upside down.
LEARN MORE | FOLLOW US ON TWITTER |
Related posts:
5 Amazing Buildings Made of Shipping Containers
5 Amazing Towns on Perilous Cliff Sides
Rotating Dome Houses
Become a LEGO Architect
Reviews of the Best Digital Cameras for Travel
Can you think up another topsy-turvy building? Head down to our comments section