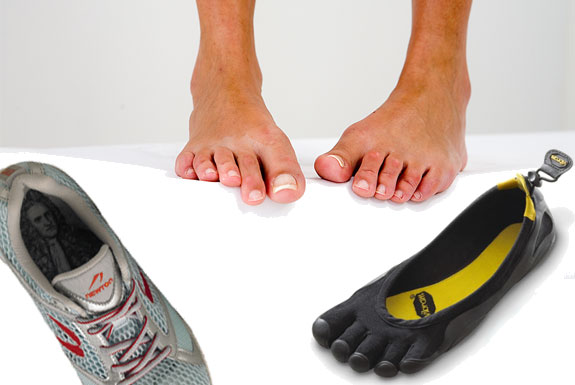 Question: What's the single best designed piece of running equipment?
Answer: It's a pair of gear you already own—your bare feet.
Most running shoes, it turns out, do more harm than good. The problem is that these shoes are designed to "protect" your feet in a way that they weren't meant to be. When encased in an excessively built-up running shoe the muscles, tendons and ligaments of your lower extremities will atrophy. That's because your shoes are doing the work that your legs and feet should be doing.
The other problem with running shoes is that they encourage you to run with the wrong form. Your body is designed to run on the ball and forefront of your feet. Try going for a run barefoot and you'll experience this yourself—your heels will barely touch the ground. In contrast, most running shoes will cause you to land on your heels in a way that won't only slow you down but will inevitably lead to knee and back pain.
Shoes, of course, do serve a purpose. They keep your feet cleaner and drier than bare feet, not to mention being useful when there's a sharp rock or nail under foot.
So what's an athlete to do? Get a pair of running shoes with a design that mimics the advantages of your bare feet. Here are our two favorite:

Vibram FiveFingers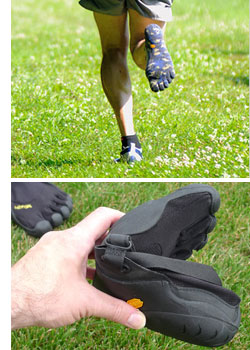 With their individual toe holds Vibram's FiveFingers look like they are trying to replicate a bare foot in shoe form. The other striking feature of their design is how flexible the FiveFingers are—you can literally bend them in half! These shoe ares also extremely lightweight and are comprised of rubbery material that contours snuggly around the foot. All that makes a pair of Vibram FiveFingers feel more like a second layer of skin than like shoes.
Our suggestion: Although you can use FiveFingers for long distance running Spot Cool Stuff prefers them for more routine physical activity like jogging and light-to-moderate hiking. The soles of the shoe are tough enough for everyday use and for climbing over rocks, gravel or anything else you'd tread on with sneakers. We love these shoes for travel too, especially to tropical destinations. With a pair of FiveFingers you can run on a beach and get that barefoot feeling without the worry of stepping on sharp shells and glass. You can even swim with them on! Of the various FiveFingers models we are partial to the KSO (Keep Stuff Out)—to us they felt more comfortable and looked more stylish than Vibram's Sprint and Classic models (although they do take a bit of extra work to take on and off).
LEARN MORE & BUY | FIND RUNNING SHOE DISCOUNTS |

Newton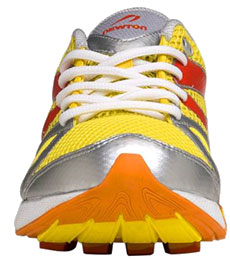 Compared to the Vibram FiveFingers (above), a pair of Newtons may look more like your typical running shoe. But they don't feel that way. Key to the design of the Newton is the rubber actuator lug that extends from the base of the shoe's forefoot area to the toes. Imagine a sort of springboard in the middle of the shoe that propels you forward in a way that mimics how a bare foot bounces you from one stride into the next—running in a pair of Newtons feels a little like you are always on a slight downhill. Newtons are also lightweight, highly breathable and among the most comfortable running shoes on the market.
Our suggestion: At the cost of around US$150~175, a pair of Newtons are a significant investment. If you are a frequent runner, and especially if you are training for a marathon or triathlon, Spot Cool Stuff feels that Newtons are well worth the cost. There are a variety of models to choose from. Novice runners, or those uncertain about their form, would do best starting with a pair of Guidance Trainers. More experienced runners should consult the Newton website for advice on which shoe best fits their running style. Of all the Newton models we are most fond of the All-Weather Trainer—it has an especially grippy sole and comes with breathable, anti-bacterial and moisture-wicking sockliners. The All-Weather Trainer, like all Newton models, can be comfortably worn without socks.
LEARN MORE & BUY | FIND RUNNING SHOE DISCOUNTS |


More on barefoot running . . .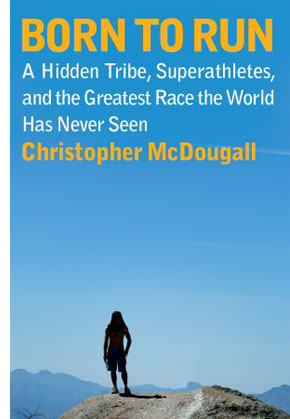 To learn why running barefoot is superior to running in a typical pair of shoes you could pour through out a slew of academic studies on the subject. Or, for vastly more entertaining read, check out Born to Run: A Hidden Tribe, Superathletes, and the Greatest Race the World Has Never Seen. This nonfiction book reads like a mystery-adventure; it starts with the question Why do feet hurt so much after one day of running? and ends with an unlikely group of indigenous people in the wilds of Mexico.
America's Podiatrist has a great overview of the harm typical running shoes can cause your feet, knees and legs. We are also fans of the Barefoot Runner website.
There is, believe it or not, a Society For Barefoot Living. The group runs a blog and has all sorts of info on the benefits of going barefoot; it is also a great resource for meeting people who are anti-shoe.

published: Nov 2009

BUY: VIBRAM FIVE FINGERS / NEWTON | FIND SHOE DISCOUNTS | FOLLOW US ON TWITTER
Related posts:
Europe's 6 Best Marathons & Running Events
The World's 5 Best Shoe Museums
Lose Weight While Traveling: Three Fun & Cool Trips
Special thanks to Kellie Finn for her help with this post