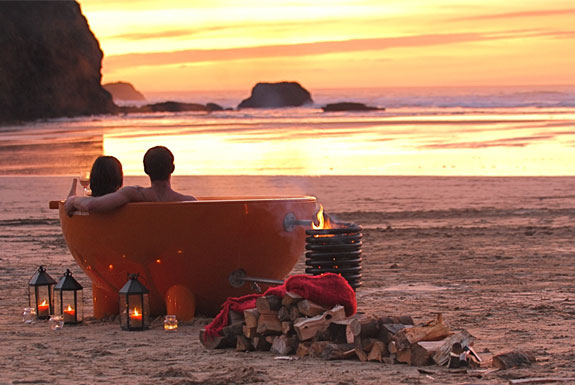 Spot Cool Stuff adores glamping travel. Glamorous camping can get you out into a natural environment in the same way tent camping does. But it combines that with touches of luxury like you might find at a high-end hotel. After spending much of our youth backpacking on a rock-bottom budget, we think we've earned a bit of luxury.
Much of what we write about glamping on this travel blog concerns resorts that combine aspects of roughing it with aspects of being pampered. (Our review of these 5 especially wondering glamping spots is a good place to start reading about those). We also appreciate products that let travelers create their own glamping experience. Our favorite of those might be this:
It's like a personal hot-springs-to-go. If you have a tub-sized patch of flat ground, wood and 200 gallons (750 liters) worth of water or snow you can have your own spa virtually anywhere.
Fill your tub with water via a suction hose, bucket brigade or whatever other means you can. (Alternatively, you can leave the Dutchtub outside and let snow or rain do the job for you).
Next, attach the included convection unit to the side of the Dutchtub and build a three-to-four log fire within its coil. Then cover your tub and wait for the water within to get toasty warm. The length of your wait will depend on the type of wood used and the starting temperatures. If the water and air temperature are each a few degrees above freezing, for instance, plan on about two hours for the tub water to heat to 100°F (38°C).
Finally, treat the water with soap, hydrogen peroxide, swimming pool shock or — preferably and most pleasantly — natural salts. Hop in and enjoy! (And try not to think about how it looks like you are sitting in an oversized cappuccino mug).
The regular Dutchtub is large enough to fit four adults comfortably; the slope of the tub's side naturally forms ergonomic "seats." There's also a Dutchtub Loveseat (pics below) that fits two adults facing each other.
Both Dutchtub models are made from the same stainless steel used to construct giant wind turbines. Durability isn't an issue. Portability might be. Everything needed to set up the tub, including the convention coil and the lid, weighs 165 pounds (75 kg) — light enough for two adults to pick it up but too heavy for them to move it very far. Fortunately, the tub does have an optional wheeled hand trailer and is small enough to be tied to the top of a large car (and to make said car look ridiculous).
The cost of the Dutchtub is no small issue either: €5,200 for the regular Dutchtub or €3,300 for the Dutchtub Loveseat. For a much cheaper and more easily movable alternative consider the Swim Time Portable Inflatable Spa. It isn't nearly as cool-looking and is powered by electricity rather than wood. But it also costs only $544 with the current Amazon discount.
If you do spring for a Dutchtub, the price might stress you out initially. But after few minutes soaking in its warm waters on some secluded beach, we suspect you'll quickly forget how much it cost.
updated: 30 Sept 2013

LEARN MORE & BUY | FOLLOW US ON TWITTER |
Some cool glamping resorts to check out:
The Rolling Huts — Methow Valley, Washington
The Hüttenpalast — Berlin
The Treebones Resort & The Birdnest — Big Sur, California
PodHotel — Flims, Switzerland
Free Spirit Spheres — Vancouver Island, British Columbia
The Four Seasons Camp — Golden Triangle, Thailand

Dutchtub Photos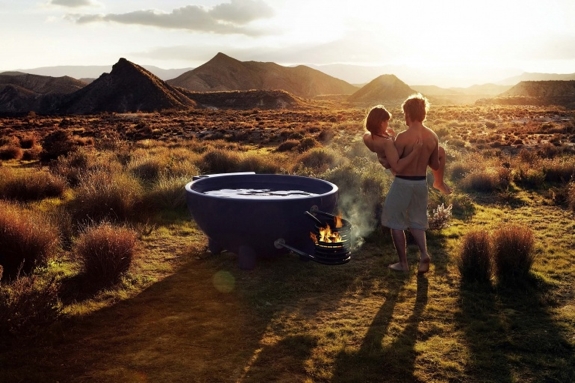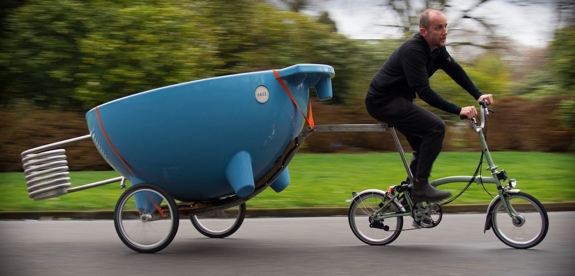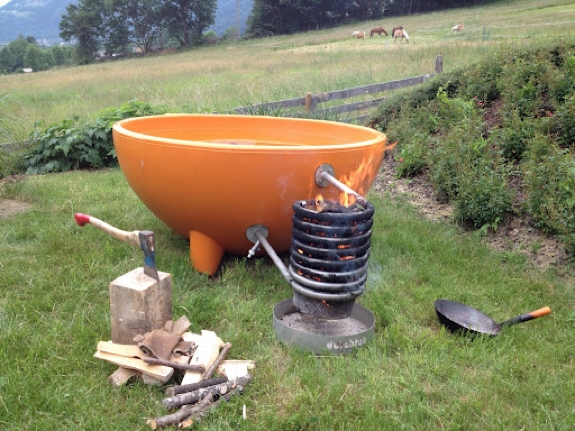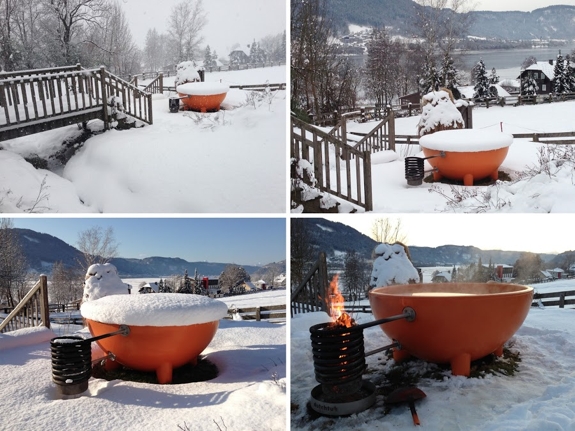 Dutchtub Loveseat Photos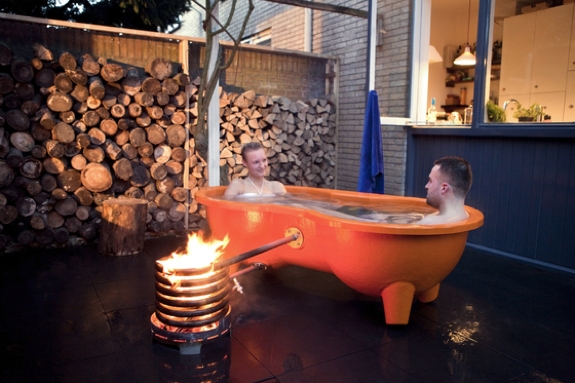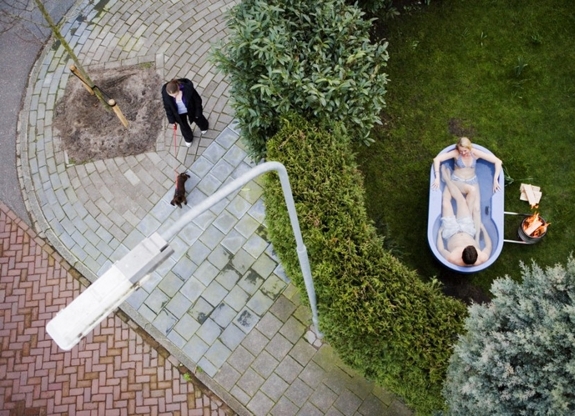 LEARN MORE & BUY | FOLLOW US ON TWITTER
More on Spot Cool Stuff
A Review of the BioLite: The World's Coolest Camping Stove
5 Creative Camping Trailers We Wish We Owned
The World's Worst Travel Gear