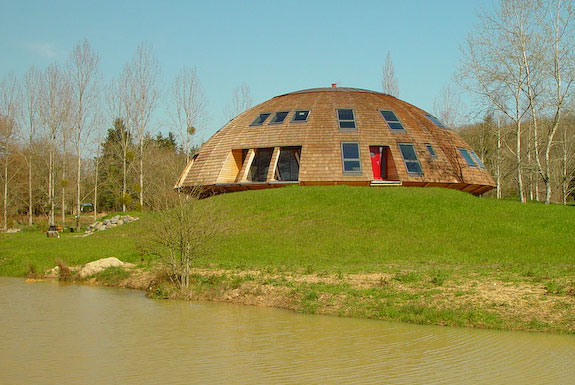 Visit a Harmonique Domespace house and you'll instantly take note of its sleek, curved exterior and the wood-laden interior filled with skylights and dramatic ceilingscapes. But here are some things you won't notice, at least not right away:
• The entire house rotates! The rotation is so smooth and gradual as to be imperceptible from both inside and outside the house (imagine trying to see the movement of an hour hand on a watch). The dome owner can direct the house to point in a particular direction by use of a remote control. But primary purpose of the rotation is to make optimal use of the solar panels that line the roof of the Domespace and the passive solar properties of the house's many windows. Which brings us to . . .




• Extreme energy efficiency. The solar panels produces most, if not all, of the energy required to power life in a Domespace house (during the day, at least, when the sun is shining). It helps that a Domespace is more electricity efficient than a typical house. A dome naturally has greater thermal efficiency. And the Domespace's many skylights virtually eliminate the need of electric lights during the day.
• Increased safety. The dome's naturally aerodynamic shape, along with Domespace's solid construction, allows this house to withstand winds up to 175 mph (281 km/h) without sustaining significant damage. That's a category 5 hurricane! The Domespace can also withstand an earthquake up to an 8 on the Richter Scale. How impressive is that? An 8 Richter Scale earthquake is equivalent to a 1 gigaton TNT bomb and would be tied for the 6th strongest ever recorded. (We aren't sure what would happen if the Domespace were simultaneously hit by a massive earthquake and hurricane but at that point the rapture might be nigh giving you have bigger things to worry about).
• Quick construction. The Domespace's design incorporates many prefabricated elements allowing for relatively short built time. The complete exterior of an average size Domespace can be built in a mere three months!
Domespace offers their Harmonique rotating dome houses in a variety of sizes; the larger ones have two living levels. Each Harmonique model is also available in a non-rotating Eclosion version, which isn't as cool but does make the location of the front door more predictable.
Domespace also makes a miniature non-rotating dome called the Transit. The one-room Transit domes are intended for guest quarters or vacation properties. At the other end of the scale, the company constructs built-to-spec Emergence domes that are large enough to function as churches, hotels and municipal buildings.
No matter the model and size, for a cool-looking energy efficient house there truly is no place like dome.
DOMESPACE (IN EUROPE, FRENCH INFO) | SOLALEYA (U.S.A., ENGLISH INFO) |
Related posts:
7 Incredible Upside-Down Buildings
5 Cool Structures Made of Shipping Containers
An Odd Medical-Theme Restaurant
The World's Only Pub That's Inside A Tree
The Best Designed Travel Mouse




Transit 4,35
Radius: 14.2 ft (4.35m) | Ceiling Height: 11 ft (3.3m) | Area: 420 sq. feet | Levels: 1

Harmonique 5,38
Radius: 17.6 ft (5.38m) | Ceiling Height: 11 ft (3.3m) | Area: 656 sq. feet | Levels: 1

Harmonique 6,65
Radius: 21.8 ft (6.65m) | Ceiling Height: 13.5 ft (4.1m) | Area: 1,485 sq. feet | Levels: 2

Harmonique 7,63
Radius: 25.1 ft (7.63m) | Ceiling Height: 15.5 ft (4.7m) | Area: 2,109sq. feet | Levels: 2

Eclosion 7,63 (doesn't rotate)
Radius: 25.1 ft (76.3m) | Ceiling Height: 15.5 ft (4.7m) | Area: 2,109sq. feet | Levels: 2

Harmonique 8,71
Radius: 28.5 ft (8.71m) | Ceiling Height: 17.5 ft (5.3m) | Area: 3,024sq. feet | Levels: 2

Harmonique 11,65
Radius: 38.2 ft (11.65m) | Ceiling Height: 23.5 ft (7.1m) | Area: 5,640sq. feet | Levels: 2

Emergence




DOMESPACE (FRANCE) | SOLALEYA (U.S.A.) | FOLLOW US ON TWITTER
Related posts & pages:
Unusual Architecture: Upside-Down Buildings
The Best Websites For Home Remodeling & Redecoration
8 Amazing Alternative Motorcycles
5 Cool Shipping Container Buildings
Cool Architecture
Yurts So Good
The Cave House For Sale On eBay
Museumotel
Would you like to live in a dome? Make yourself at home in our comments section: