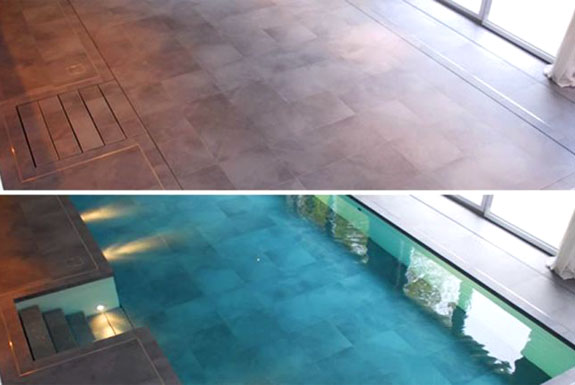 You've seen it in so many James Bond movies: a villain makes the floor drop away sending a would-be hero falling into a pool of water filled with piranhas or electric eels or the like. Well, remove the piranhas and the eels and the plans for world domination from that equation and you have the makings of a cool idea: a swimming pool that can be hidden beneath a floor.
That's basically what Hydrofloor is. Except, instead of a hatch dropping open to reveal a pool the entire floor drops down and allows water to flow on top of it.
This dropping floor system has a few advantages: it optimizes space. It insulates the pool water (thus requiring less power to heat). And it allows for the pool depth to adjusted; create a shallow pool for kids or a deeper one for swimming laps.
The downside? The Hydrofloors system isn't useful for sending your enemies to an untimely end.
published: 14 Nov 2010

LEARN MORE & BUY | JOIN US ON TWITTER / FACEBOOK |
Related Posts:
Install Hidden Doors and Secret Passageways In Your House
Spain's Frank Gehry Designed Boutique Hotel
The World's Largest Swimming Pool
The 7 Best Las Vegas Swimming Pools
7 Upside Down Buildings


Read more cool architecture posts