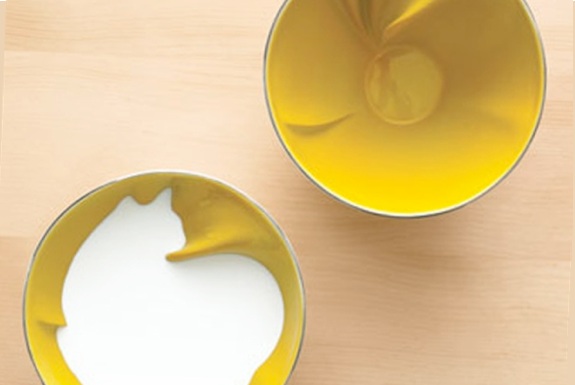 Spot Cool Stuff previously reviewed three unusual and creative cereal bowls for kids. The idea in that review was to feature bowls that were affordable, unbreakable and fun. Hidden Animal Bowls fell miserably short of that first criteria and failed to meet the second. But, oh, how they excel at the third. Each bowl has an animal shape that appears when filled with liquid. But if you find that the price tag puts you off—and it will—then check out some alternative Hidden Animal Tea Cups.
More on both, below:

Bernardaud Hidden Animal Bowls
An empty Hidden Animal Bowl, from French artist Geraldine De Beco for Bernardaud, is not much to look at; the base of bowl is scraggly and the interior is vaguely rippled. But pour liquid in and a silhouette of an animal appears, magic-like. There are a variety of bright bowls colors and three animals to choose from: a bird, cat and wolf.
Kids will love using these bowls. Parents won't let kids anywhere near them once they see the price: €240 (US$330). Yes, that's per bowl!
LEARN MORE & BUY | JOIN US ON TWITTER / FACEBOOK |




imm Living Hidden Animal Teacups
Hidden Animal Tea Cups, by Canadian designer Ange-line Tetrault, each have a little animal sculpture (either a fox, bear or owl) attatched to the bottom of the interior. These cups aren't as subtle at hiding their beasts as are Bernardaud's bowls (above). But then they cost 1/15th the price.
The maker of these teacups, imm Living, has several other household accoutrements that incorporate animals into their design, including a dove bottle opener, bird juicer and deer antler key holder.
LEARN MORE & BUY | JOIN US ON TWITTER / FACEBOOK |
published: 21 Oct 2011

Some Cool Animal Travel Ideas:
Eat With Giraffes
Drink With Cats
Swim With Whale Sharks
Bathe With Monkeys