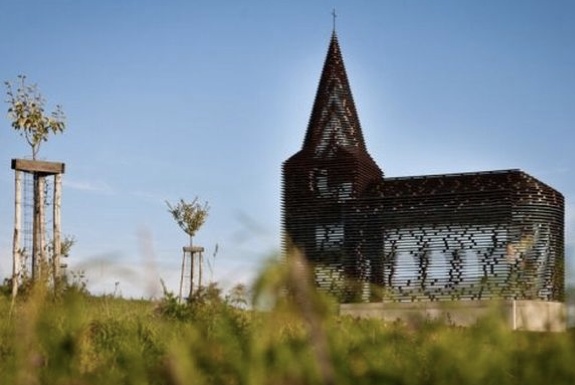 There's a rise in a field on the outskirts of Borgloon, Belgium where you can look out and see the old town church. It's also where architects Pieterjan Gijs and Arnout Van Vaerenbergh had a commission to build a piece of art. Inspired by the church, the pair decided to build a stylized version of it. Though the building by Gijs Van Vaerenbergh (as the pair collectively calls themselves) had one key difference with the original:
There church they constructed is transparent!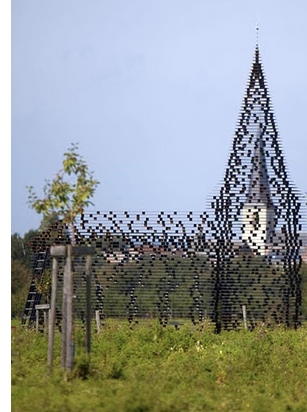 Or, at least it can have a sort of illusion of transparency. The 10 meter (33 foot) high church is made of 100 layers of weathered steel plates. Look at the plates from a directly horizontal angle and they are so thin as to be hardly noticeable (especially when the scene behind the church is well lit). The effect lead Gijs Van Vaerenbergh to give their work the apropos name Reading Between The Lines.
Besides its transparency, there are two especially cool features about the art piece. First, if you look from exactly the right vantage point, you can see the real church that inspired Gijs Van Vaerenbergh framed by the transparent one. (See pic to the right.)
Second, the whole church—including the roof—appears transparent. Yet, if you are standing inside the Reading Between The Lines church and it starts raining, you won't get wet. That's because at least one layer is above every point of the structure's footprint. (See pic below.)
Altogether, it's sort of like a miracle. Which we suppose is what all churches, whether functioning or works of art, are in some way about.
published: 9 March 2012

LEARN MORE | JOIN US ON TWITTER / FACEBOOK / PINTREST |
Related posts:
The Transparent Canoe
The World's Best Bookstores ← one's in a former church
Vacation in Istanbul Like an Ottoman
Churches, Temples and Monasteries—on Perilous Cliff Sides




LEARN MORE | JOIN US ON TWITTER / FACEBOOK / PINTREST
Read more cool architecture reviews