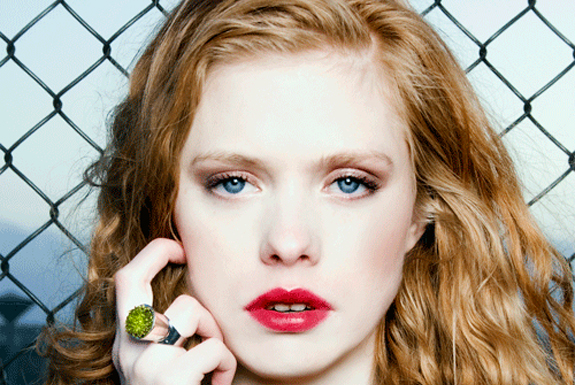 With the rings from the Growing Jewelry collection you'll need a green thumb to keep green on your finger. That's because Growing Jewelry rings, handcrafted by Iceland-based designer Hafsteinn Juliusson, are topped with real living Icelandic moss!
Think Chia-pet-meets-couture-jewelry.
Or, as Juliusson himself explains: "Growing Jewelry is a redefinition of modern values. It is a clash of jewelry and gardening; couture and organism. The collection of this hand jewelry is designed for people in metropolitan cities and is an experiment in drawing nature toward man, as nature being the presupposition of life."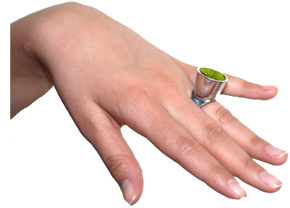 For men there are two wide, intimidating knuckle rings to choose from—one goes across two fingers (250€), the other across four (350€, see pic below). Both are perfect for the organic gardener-gangsta.
The Growing Jewelry rings for women are of the single finger "only" variety, making them a more demure fashion statement. Choose between a round (€150) and square (€170) design.
Growing Jewelry is available at the Reykjavik Art Museum, where it is displayed on sand beds beneath growing lamps. The rings are also sold through Juliusson's online store and are shipped out to customers in a sort of miniature greenhouse.
The moss atop of each Growing Jewelry ring must be tended to with water, nutrients and light like any other plant. Care for your ring properly and it should last for at least three months.
Ourselves, we can't wait for Juliusson to design working miniature 14K gold lawn mowers to accompany this collection.
updated: 22 Sept 2010

LEARN MORE & BUY | JOIN US ON TWITTER / FACEBOOK |
Related posts:
The Iceland Phallological Museum
Samsung Reclaim: The Free Smartphone Made From Corn
8 Amazing Mazes
Lotusland: Ganna Walska's Garden of Dreams
The 3 Best Environmentally-Friendly Website Hosts




LEARN MORE & BUY | BUY HOME FURNISHINGS | JOIN US ON TWITTER / FACEBOOK