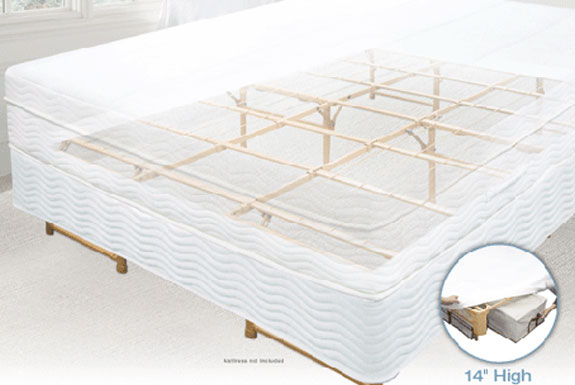 We aren't sure exactly when the box spring was invented but it probably wasn't too long after Homo sapiens stopped sleeping on cave floors. And for most of the time since the box spring has remained, well, like a box spring. Until Sleep Revolution made a better version.
The Sleep Revolution incarnation of the box spring looks like the typical deal when your bed is made up. And it will feel like you average box spring when you are sleeping on it. So when will you notice how the Sleep Revolution box spring is better?
When you are looking for extra storage space. The Sleep Revolution Bed Frame has 14 inches (35cm) of storage underneath. With your typical bed you are lucky to get 8 inches.
When you set up your bed. Typical box springs require a separate (and sometimes expensive) steel frame for floor support. The Sleep Revolution has the floor support built in.
When you move. Most box springs aren't heavy. But they are bulky. Sleep Revolution's take on the box spring folds down to an easy-to-carry size; no tools required.
As time goes by. The Sleep Revolution box spring is made entirely of long-lasting steel. The wood and fabric used to make most box springs don't last as long and are susceptible to termites and other bugs.
Sleep Revolution will ship free inside the U.S. Use the coupon code "DISCOUNT" at checkout to receive a $20 discount. As for what to do with your outdated box spring, we suggest eBay.
published: 26 Jun 2009

LEARN MORE & BUY | HOME FURNISHINGS | JOIN US ON TWITTER / FACEBOOK
Related posts:
Cool Murphy Beds
The Swanky Sphere Bed
The Interactive Pod Beds That Know Who You Are