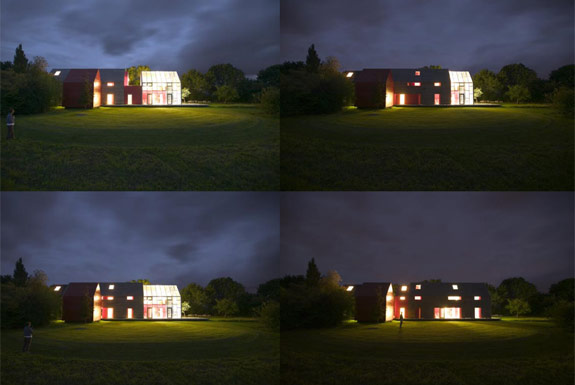 There are advantages to living in an all-glass house: the views, the natural sunlight, the passive solar heating on chilly sunny days. There are disadvantages too: the lack of privacy, the unwanted extra heat on warm days, the common wisdom ban on throwing stones while living in one. So what's a home owner to do?
If you are Ross Russell of Suffok, England the answer is: Build a house that slides open.
When it is slid closed you likely wouldn't notice anything unusual about Russell's house. With its timber-clad exterior and 45-degree angle roof it resembles so many barn-like structures in the English country side.
When the house slides open, however, it is an unusual sight to behold. (And, indeed, you can behold it in the video below). Four electric motors silently slide the 20 ton outer house shell back to reveal the inner glass and steel structure. The motors that power this sliding run on car batteries automatically recharged through solar power.
Currently the house shell slides back 28 meters (92 feet), a trip that takes about 6 minutes. In the "back" position the shell shades a patio. However, the London-based architectural firm that designed the house, de Rijke Marsh Morgan, allowed for the possibly of extending the track further to allow the roof shell to cover a garden or swimming pool.
When Russell sat down with his architects to first conceive of his house's design they started with the mantra "We are prepared to be radical." So it is no wonder that Spot Cool Stuff likes this house so. That could be our mantra too.
LEARN MORE (PDF download) | FOLLOW US ON TWITTER |
Related posts:
7 Incredible Upside-Down Structures
A Review of the Erector Spykee Transforming Spy Robot
Install a Hidden Door or Secret Passageway In Your House
5 Cool Buildings Made of Shipping Containers
Amazing, Rotating Dome Homes
Amazing Destinations That Resemble Dr. Seuss Illustrations
Cool Architecture






LEARN MORE (PDF download) | BUY HOME FURNISHINGS | FOLLOW US ON TWITTER